British fabless chip designer Imagination Technologies has decided to reveal the inner workings of the MIPS (Microprocessor without Interlocked Pipeline Stages) instruction set to universities worldwide.
Imagination acquired the eponymous MIPS Technologies in 2013 for $100 million, after outbidding its long-time Israeli rival CEVA.
MIPS CPUs are based on the reduced instruction set computing (RISC) architecture, as seen in low-power chips designed by ARM and IBM's Power processors.
The open CPU blueprint can be used as part of electronic engineering and computer science courses, and Imagination hopes its program will lead to new applications in wearable technology and Internet of Things.
Study materials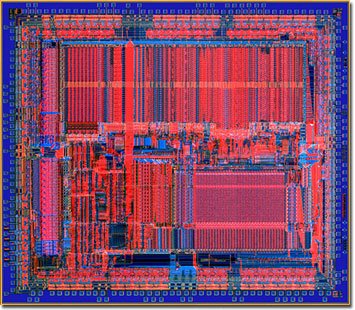 Imagination Technologies is one of the world's leading designers of mobile GPUs. It doesn't print any silicon, instead licensing intellectual property to companies including Intel, Texas Instruments, NEC, BlackBerry, Samsung and Freescale. Imagination's PowerVR image processing chips can be found inside every mobile device launched by Apple since iPhone 3GS.
The MIPS architecture was invented by Professor John Hennessy, currently president of Stanford University, more than 30 years ago. MIPS Computer Systems was founded in 1984 to commercialize the technology and by 1990s, it started licensing its embedded processor core designs to others.
Today, MIPS silicon can be found inside Blu-Ray players, digital TVs, game consoles, Wi-Fi routers, tablets and smartphones.
As part of Imagination's MIPSfpga program, blueprints of a MIPS microAptiv CPU will be opened up for academic use, including its MMU, cache controllers, debug interfaces and a non-obfuscated core.
MIPS architecture prides itself on simple, efficient design especially suitable for education purposes. In a blog post on the topic, Imagination's university program manager Rober Owen went as far as to say ARM "was arguably never true RISC in the first place. It's also fraught with difficulties because the internal architecture is a fiercely guarded secret."
In contrast, MIPS Technologies has had a long history of working with the open source and academic communities, and students will now get aces to the most up-to-date iteration of the architecture.
Universities already signed up for the program include Imperial College London in the UK, Harvey Mudd College in the US, Keio University in Japan and Shanghai Jiao Tong University in China.
"Is it open source? Not completely," explained Owen. "For academic users the license is simple: you can use it as you wish, but you cannot put it into silicon. If you modify it, you must talk to us first if you wish to patent the changes. In summary, universities can go as deep as they like under the hood."
In the nearest future, Imagination plans to offer MIPSfpga Fundamentals – a complete set of teaching materials to accompany the CPU. This will be followed by MIPSfpga Advanced course.