UK-based Iceotope, a specialist in liquid-cooled IT systems, has launched EdgeStation - a portable edge computing module designed for challenging environments.
EdgeStation is a sealed liquid cooling system that immerses electronics in a dielectric fluid. Users can specify the hardware they want in the box, but Iceotope has some off-the-shelf stock with 2.2GHz Intel Xeons and 256GB of memory. While these systems sound like in-house servers, Iceotope is also offering them for micro-data center settings such as at the base of cell towers.
Addressing user problems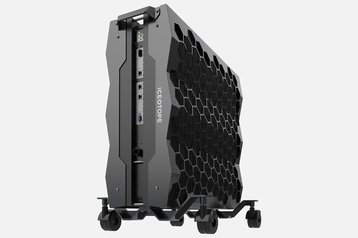 "This addresses problems raised by customers," said marketing manager Jade Thomas. For instance, the system has been used by Sheffield University's Advanced Manufacturing Research Centre for high-powered workstations deployed in a quiet office environment, and on a shop floor which is plagued by carbon fiber dust.
"We want to get critical apps under local control," said Thomas, adding that some sites have been struggling to run applications with fan-based equipment.
Iceotope will be hardware-agnostic in the future, although adding new hardware to its range may involve longer lead times, DCD was told.
"Localized data processing is imperative for applications such as the Internet of Things (IoT), Artificial Intelligence (AI) and Industry 4.0," said David Craig, CEO at Iceotope.
"Air cooling has reached its peak and can no longer effectively cool such devices. Iceotope has created a smarter way of getting the processing power you need, where you need it."
For more on liquid cooling be sure to subscribe to our magazine - the next issue, out in June, takes and in-depth look at this market, as well as cooling as a whole.