A man suspected of orchestrating a series of thefts at cryptocurrency-mining data centers across Iceland has broken out of prison, and fled the country.
Sindri Thor Stefansson escaped a low-security prison through a window and used a plane ticket under a different name to fly to Sweden, according to local media reports. The plane was also carrying Iceland's prime minister, Katrin Jakobsdottir.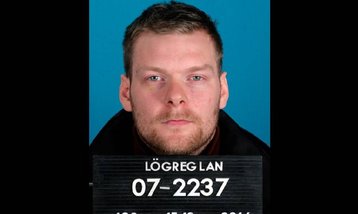 The Icelandic Job
In four raids between December and January, approximately 600 servers worth almost $2 million were stolen from data centers across Iceland in what the local press dubbed the "Big Bitcoin Heist."
One of the data centers hit was Advania's facility at Fitjum in Reykjanes, another was the Borealis data center in Borgarbyggð, while the third is not yet known.
DCD visited a Borealis facility in Keflavik back in 2015, and noted the 'shoestring' data center's minimal security: "A number of familiar external items were entirely missing: no security fencing, no access control beyond a normal door, no UPS generator systems or the tank farm necessary to feed them. In fact, if not for the loud noise coming from the open doors and the heat pouring out of the building, it still looked like it belonged on a chicken farm."
It is not clear what security features Borealis' Borgarbyggð site had, but Advania's data center had CCTV cameras that recorded the crime - evidence that is thought to have been instrumental in the investigation.
While the equipment is yet to be recovered, in March police arrested 11 people suspected of being involved, followed by another 11 suspects, including a security guard for contractor Öryggismiðstöðvarinnar (Security Center).
Stefansson was accused of being the 'mastermind' behind the crime spree, and has been in custody since February. Ten days ago, he was moved to the Sogn prison in southern Iceland, 95 kilometers (59 miles) from the airport, an unfenced correctional facility where inmates have access to the Internet and phones.
"He had an accomplice," Police Chief Gunnar Schram told Visir.
An international warrant has been issued for Stefansson's arrest and Swedish police are now involved in the search.