Carrier-neutral colocation provider I.C.E Data Centers has opened a new facility at the Markham Hilton in Toronto, its second in the Canadian city.
The company says that the 41,000 sq ft (3,809 sq m) data center was 'designed to' Tier III Uptime Institute standards, and has an optional on-site expansion space of 50,000 sq ft (4,645 sq m).
N.I.C.E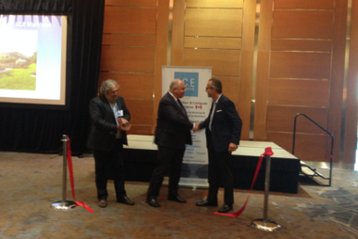 The new data center in Markham has access to 8MW of power (expandable to 16MW) from two independent substations, and is chilled by proprietary 'I.C.E Box' cooling tech.
Waste heat is recaptured for community use, with the facility connected to the Markham District Energy cogeneration plant.
"Our clients are looked after by a seasoned executive and operations team with 60+ years of data center and fiber network management expertise serving a global customer base in Canada, the US, and Europe," Bill Henneberry, VP of Technology and Operations, said. 
"We are proud to bring our experience and resources to the GTA [Greater Toronto Area] and help Toronto businesses continue to grow."
CEO Michael Bucheit added: "Toronto has developed into a major metropolis, North America's 4th largest, and one of its fastest growing cities. This growth has brought significant concentration and single-point-of-failure risks onto the supporting communication infrastructure; in particular with the vast majority of IP traffic being single-threaded through downtown Toronto.
"We address this massive business vulnerability at I.C.E Markham. We offer the same level of access to the global interconnect community, which includes national and multi-national carriers, ISPs and content and cloud providers while providing uncompromised geographic diversity to downtown Toronto."
The data center was opened by Frank Scarpitti, the Mayor of Markham, and adds to the company's existing data center in Toronto and eight facilities in Montreal.