IBM has bought its fourth health analytics company in its bid to be the biggest data-centric player in the world health industry.
The announced plan for its subsidiary, IBM Watson Health, to acquire Truven Health Analytics for $2.6bn would give IBM a cloud-based health data company with 8,500 clients. The customer base includes US federal and state government agencies, health plans, hospitals, clinicians and life sciences companies, all of which will join the IBM Watson Health portfolio.
If the acquisition completes IBM's data center estate will house information on 305 million patients. On completion of the deal IBM plans to integrate Truven's cloud-based data set. The total IBM data set comes from three different companies, with 215 million 'patient lives' from Truven, 50 million from Explorys and 45 million from Phytel. Truven Health Analytics is IBM's fourth health acquisition for the Watson Health since it was launched in April 2015. In that time it has bought Phytel for its population health data, Explorys for cloud-based healthcare intelligence and Merge Healthcare's medical imaging expertise. Partners include Apple, Medtronic, Johnson and Johnson, Novo Nordisk and CVS Health.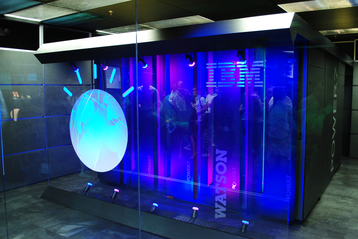 IBM has bought a cloud-based health data expert
If the deal concludes IBM will have invested $4 billion on buying health data and systems, giving it a team of 5,000 data scientists of different grades, including clinicians, epidemiologists, statisticians, healthcare administrators, policy experts and consultants within the IBM business unit.
Truven's cloud-based technology, systems and health claims data will be integrated into the Watson Health Cloud. Truven Health Analytics has an HQ and data centers in Ann Arbor, Michigan, with supporting facilities in Denver, Chicago, Raleigh-Durham and India.
In September DCD reported how IBM was building on the potential created by the original Watson project to create a 'cognitive computing platform' that developers could use to build artificial intelligence applications.
IBM has created application programming interfaces into its systems and invited partners to build advanced text, speech and image recognition capacity into their software and systems. More than 100 ecosystem partners have launched their own Watson-based apps. IBM is also building a new Watson data center in San Francisco, which is due to open in early 2016.