IBM is adding the option of using its Power Systems hardware for customers of its SoftLayer cloud services.
Customers will be able to choose services that run on servers powered by IBM's Power processors. The initial set of services will be available in the second quarter, and other offerings will be added gradually.
Tom Rosamilia, senior VP of IBM's Systems and Technology Group, said this was one of the ways the company was taking advantage of its acquisition of the cloud services provider SoftLayer last year. "We are now infusing – in the second quarter – Power Systems into SoftLayer," he said during a keynote presentation at IBM's Pulse conference in Las Vegas Tuesday.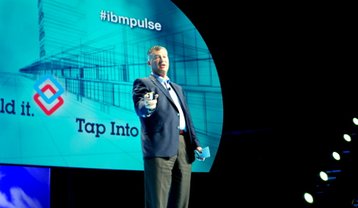 Power to the people?
Power Systems at the company's SoftLayer data centers will use the same processor architecture IBM is licensing to other chip makers through the OpenPower Consortium, announced in August. The OpenPower initiative is meant to enable other server and processor vendors, as well as software developers, to innovate around the architecture.
"We're licensing Power to be built by others, [similar to] the ARM model," Rosamilia said. ARM Holdings is a UK company that designs processors used in the majority of the world's smartphones. It does not manufacture the chips itself, however, licensing the designs to other vendors.
"This OpenPower is what we'll run in SoftLayer [data centers]," Rosamilia said.
The first services running on Power Systems will be three Watson offerings: Discovery Advisor, Engagement Advisor and Development Cloud. Watson is a brand of IBM technology designed for what the company calls "cognitive computing."
It combines speech recognition with sophisticated unstructured data analytics technology. The technology made a public debut in 2011, when a Watson system won the popular TV quiz show Jeopardy.
IBM is in the process of building out a wide-ranging portfolio of cloud-based services that enable developers to integrate Watson capabilities into software. In January, the company launched a dedicated Watson Group, complete with a US$1bn investment commitment and a headquarters building in Manhattan.
After the three Watson services, next in line for running on Power Systems at SoftLayer data centers will be a series of Software-as-a-Service offerings, including IBM's DB2 database software and its Cognos analytics solutions, and an Infrastructure-as-a-Service offering.
The IaaS product will give customers the option to rent raw bare-metal Power Systems compute power on demand.