IBM has launched two servers based on its Power silicon – itself based on the Reduced Instruction Set Computing (RISC) architecture, an alternative to x86.
The company also announced the third generation of XIV storage servers, and a new storage software-as-a-service based on the Spectrum Storage portfolio.
All of the announcements were made at the Edge conference in Las Vegas, where IBM introduced new, more flexible licensing model for software used across hybrid cloud environments.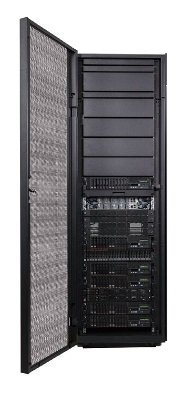 So very hybrid
According to Gartner, half of large enterprises will run hybrid cloud deployments within the next two years. "Hybrid cloud computing requires new levels of openness, dynamic data management, integration, automation and scalable performance in server, storage and software technologies," said Don Boulia, vice president of Cloud Services at IBM.
"IBM brings all of these technologies together from on-premises data centers and inside public and private clouds to more efficiently manage traditional computing with new mobile, big data and social computing workloads."
The company believes its Power silicon is an especially good fit for these new types of cloud-based workloads. The most interesting among the new systems is IBM PurePower – a converged infrastructure play that offers compute, networking, storage and security in a single box, with an option of managing it through OpenStack.
PurePower is based on PowerVM – IBM's own virtualization platform that has, according to National Vulnerabilities Database, seen zero documented vulnerabilities for the past three years.
Meanwhile the new IBM Power System E850 puts four Power processors on a single motherboard, and is aimed at cloud service providers and medium to large organizations.
The third generation of IBM XIV storage servers is touting improved real-time compression which can help reduce the size of your data by as much as 80 percent with no impact on application performance.
On the software side, IBM has announced Spectrum Control Storage Insights - one of the first results of its $1 billion investment into storage technologies. This Software-as-a-Service simplifies data management across hybrid cloud environments and applies analytics to ease capacity planning, enhance performance monitoring, improve storage utilization and lower the cost of storage by finding the right data placement.
And in June, IBM will launch PureApplication Service: a self-service portal that will allow customers to easily scale their monthly software license footprint across private and public clouds, including those operated by IBM's competitors.