IBM has launched three all-flash storage arrays built around proprietary NAND modules and promising latency as low as 250 microseconds.
The FlashSystem A9000 and A9000R are aimed at cloud service providers, while DS8888 was designed to fit the needs of mainframe operators.
"What the A9000 does is allow you to manage very large datasets at scale, and do so very quickly and with minimal effort. A lot of ease-of-use went into the design of the A9000, it's meant to be self-tuning, and there aren't a lot of controls that storage administrators or database administrators have to work with," Michael Kuhn, VP and business line executive for IBM's Enterprise Storage Solutions, told DatacenterDynamics.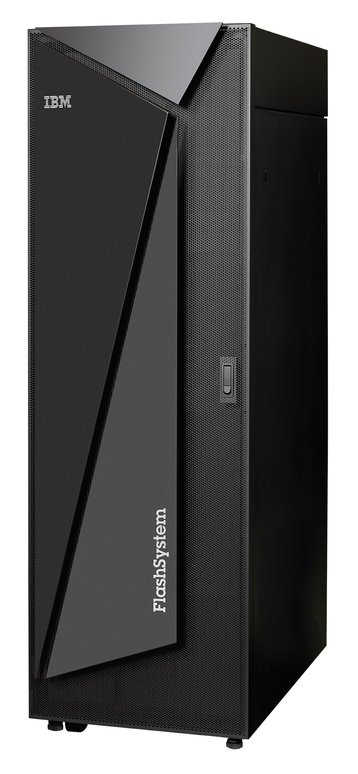 Bigger boxes
IBM's marketing might lack the glitz of certain start-ups in the flash storage space, but according to Kuhn, the company ships more flash capacity than anyone else on the market. He told DCD that the current crop of the storage arrays is a direct result of the $1 billion investment in NAND technologies that IBM announced three years ago.
The new hardware is intended for deployments in large data centers, and supports secure multi-tenancy, thresholding, and advanced scalability. More than a hundred flash arrays can be managed from a single screen using IBM's Hyper-Scale Manager.
The A9000 is a fully configured 8U appliance that includes 12 flash modules in a form-factor designed by IBM, along with three grid controllers. The modules are available in capacities of 1.2TB, 2.9Tb and 5.7TB, so a single system can offer up to 300TB of 'effective capacity' – i.e. available storage space after applying pattern removal, compression and deduplication to your data.
According to IBM, such data reduction techniques also lower the price of flash to around $1.5 per GB – a point where it can compete with performance-oriented 10k HDDs.
In the nearest future, A9000 will be certified as part of VersaStack hyperconverged appliance line, something that guarantees total compatibility with networking equipment and management tools from Cisco.
The A9000R comprises up to six A9000 units stacked in a single IBM cabinet. In a full configuration, it offers up to 1.8PB of effective capacity, and up to 2,000,000 IOPS.
The IBM DS8888 is a high-end storage system designed for compatibility with IBM System z mainframes and servers based on the Power architecture. It is optimized for transaction processing and features 4K cache segments, self-encrypting flash modules, Fiber Channel and FICON connectivity and redundant storage controllers.
A single DS8888 cabinet can support up to 480 Flash Cards, resulting in up to 2.5 million IOPS.
IBM buys NAND chips from Micron but designs the storage modules in-house, giving it the ability to fine-tune the storage media. A good example of this is the MicroLatency technology that transfers data within the array via hardware instead of the added layer of software. This approach also enables the company to offer seven year endurance guarantee on its flash storage.
IBM FlashSystem A9000 and IBM FlashSystem A9000R are available immediately while the DS8888 will be released in June 2016.