IBM & Fujifilm have developed a new high-capacity tape storage unit.
The companies this week announced the development of a 50TB native tape storage system with the world's highest native data tape cartridge capacity.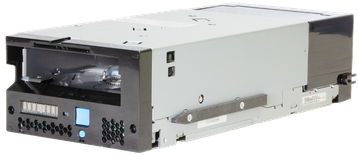 Fujifilm has commenced production of a high-density tape cartridge for use with IBM's newest enterprise tape drive, the TS1170.
IBM said the sixth-generation IBM 3592 JF tape cartridge incorporates a newly developed technology featuring fine hybrid magnetic particles to enable higher data storage capacity; both the areal recording density (the amount of data that can be recorded per square inch) and the overall recording area (the surface area capable of recording data) have been increased.
The tape is 15 percent longer per cartridge, thanks to a thinner and stronger film; magnetic particles combine Strontium Ferrite (SrFe) and Barium Ferrite (BaFe) resulting in improved recording density.
The 3592 JF tape cartridge, only available on the IBM TS1170 Tape Drive, reportedly provides the ability to store up to 150TB of data on a single cartridge with a 3:1 compression ratio.
Kei Nagata, deputy general manager of the industrial products division at Fujifilm, said:
"With 50TB native capacity, 2.5 times the capacity of the previous highest-capacity tape cartridges, Fujifilm believes this breakthrough demonstrates the future potential of tape technology. The IBM 3592 JF tape cartridge is yet another milestone in many years of joint research and development with IBM, and we are honored to be the manufacturer of this product."
Alistair Symon, VP of storage systems development at IBM, added: "The advanced technology in the IBM 3592 JF tape cartridge will enable customers to realize high densities, which facilitates storage cost optimization while maintaining performance and time to data.
"This is the first tape storage medium with 50TB native capacity, and it demonstrates tape's viability as an optimal choice for data protection, active archives, and long-term retention in scientific data, industrial data collection, and cloud service provider environments."
More in Infrastructure Management