Polish data center operator Beyond.pl has produced an advert promoting the recently opened data center in Poznan, and it's a sight to behold.
The short clip celebrates the role of the data center in the modern world, using beautiful cinematography, dramatic music and some of the best voiceover we've heard (in a data center video).
The Poznan facility is the first in Eastern Europe to achieve Rating 4 certification under ANSI/TIA-942:2014 standard, and safety of data is clearly top of the agenda for Beyond.pl - just look at all those security guards.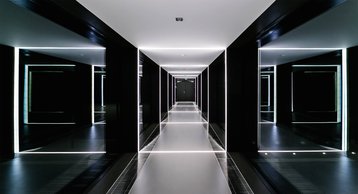 The ANSI/TIA-942:2014 was developed specifically for data centers, and is broadly similar to the Tier rating system administered by the Uptime Institute. A facility with a Rating of 4 under the TIA standard offers protection against almost all physical events, and allows concurrent maintainability plus one fault anywhere in the installation without causing downtime.
The video hammers this point home with long pans, great use of stock footage, central shot composition and superb editing, perfectly timed to music.
This is how you show off a data center.
The advert was created by OMI Media House, an independent creative agency based in Wrocław, Poland.