British-owned colocation provider Hydro66 has signed a supply agreement for two years of 100 percent renewable energy for its upcoming site in Boden, Northern Sweden, where the annual mean temperature stands at -1.3°C.
Hydro66 will buy its energy from Vattenfall – Sweden's largest utility company – which also powers Facebook's massive data center campus in Luleå.
Under the terms of the deal, Vattenfall will have to supply the data center with 40 to 50 MW, which will be produced by a dam on the nearby Luleälven river.
The first phase of the facility was originally expected to open in May 2015, but has been delayed.
Cool as ice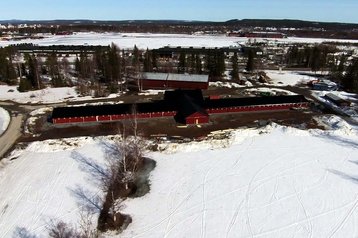 Hydro66 was established to take advantage of Sweden's low cost power, cool climate and generous incentives offered by the government. The first phase of its first facility will deliver two data halls, offering 8,000 square meters of white space on a 46,000 square meter campus.
The data center is built using modular hardware, and promises an ultra-low PUE of 1.07.
It is located in an area known as The Node Pole – a popular site for data center projects, just 50 miles away from the Arctic Circle. Other residents of the Node Pole include Facebook, Bitcoin venture K'n'C Miner and Fortlax, which runs co-location services out of an old army base.
"Establishing our first green data center in Boden means we can offer at least 50 percent annual cost savings to our customers along with an environmentally friendly solution and enhanced flexibility," said Paul Morrison, business development director at Hydro66.
The company will buy at least 40MW of hydroelectric power through to 2017, with certificates of Guarantee of Origin (GoO), which ensure that Vattenfall has transferred this amount of renewable energy to the grid.
"We are very happy to welcome Hydro66 as a new customer and to announce another strong data center supply partnership, which is an important growth area for Vattenfall in the Nordic region," said Matts Wesslén, sales manager for energy intensive clients at Vattenfall.
We should note that Greenpeace previously criticized Facebook for buying its energy from Vattenfall – despite having impressive renewable energy resources at its disposal, the utility company produces most of its energy from fossil fuels.