Colocation provider Hydro66 is set to build another four data halls on its campus near the Arctic Circle in Sweden, tripling its total power capacity to almost 12MW. All of the energy will continue to be obtained from renewable sources.
Two of the buildings will be opened in the fourth quarter of 2017, and another two - in the first quarter of 2018.
Hydro66 is part of the Node Pole, a commercial project in the north of Sweden that aims to redevelop a former industrial region into a data center hub. Its current residents include Facebook, Fortlax, KnC Miner and the Swedish Institute of Computer Science (SICS).
Rapid expansion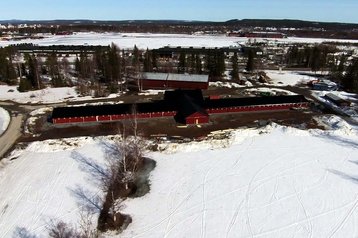 Hydro66 is a British company that was established to take advantage of Sweden's low cost power, cool climate and generous incentives offered by the government. Its existing data centers offer 1,500 square meters of white space and 3.6MW of power capacity, and are currently 80 percent leased.
Over the next year, Hydro66 is planning to add another 2,000 square meters across four modular data halls, enough space to host 800 cabinets.
The campus is located beside a new 120MW substation, and draws power from a 78MW hydroelectric dam on the Lule River – located just 500 meters away.
"We have built a strong and varied customer base by delivering high quality colocation services in a secure, efficient environment. We are very happy to see existing clients expanding with us and to meet market demand we are now building more capacity," said Anne Graf, CEO at Hydro66.
In November 2016, Swedish government voted to reduce the electricity tax levied on data centers by 97 percent, resulting in the cheapest data center electricity in Europe. Just a month prior, it was announced that the Node Pole project was being acquired by local energy companies Vattenfall and Skellefteå Kraft, which plan to expand it further.