Carrier hotel pioneer Hunter Newby has set up a joint venture to "democratize" connectivity, by building Internet hubs in more than 125 communities in America.
Newby Ventures has teamed with non-profit organization Connected Nation (CN) to build and operate Internet Exchange Points (IXPs) in communities that don't currently have spaces for carrier-neutral connectivity. The joint venture, announced at the Metro Connect 2023 event in South Florida, will improve local Internet access and provide more resilient network paths into and out of each region.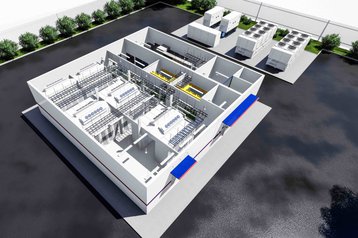 The list of locations is online (PDF) -lists 125 target communities in 43 states and 4 US territories, and includes 14 states which currently have no carrier-neutral connectivity point at all.
Hunter Newby told DCD in a podcast interview, that fundamentally, US broadband is held back by a lack of neutral connectivity space: "The problem with rural broadband in America isn't broadband," he said. "The problem isn't fiber or even a lack of neutral real estate. All of those networks have to have a place to physically go, where content, cloud, and gaming can reside."
Newby, who pioneered the concept of meet-me-rooms in carrier hotels when he was CEO of Telx, a service provider bought by Digital Realty for $1.9 billion in 2019. During Covid, he looked at the online peering database PeeringDB and noticed something: "If you make a map of the US with the numbers of Internet exchanges in each state, states that have a zero have a problem. Because every single thing that happens, every second of the day, needs to leave that state and go to another state to get to an internet exchange point to get access to the content and the cloud."
The Digital Divide is currently widening, not closing, Newby says because hyperscale data centers often simply rely on their own direct connections which go to other states. "There's so many examples where a hyperscaler's cloud data center is in a state, but they backhaul using their own fiber far away to an existing interconnection point," he said. One Midwest state has a cloud data center that connects through its own fiber to Chicago. "The creation of that hyperscale data center in that Midwest state did nothing for the state itself to improve its local broadband."
The new IXPs will provide a competitive marketplace for wholesale internet (IP transit) and backhaul (transport), so network operators and end-users should end up with lower prices, and smaller cities and rural areas will generate their own internet ecosystem alongside their metro counterparts.
Lack of connectivity
The deal will access federal grants to improve Internet infrastructure, and Connected Nation, a 501(c)3 nonprofit company working to improve rural digital access in the US, will bring its experience of the sector: "For more than 20 years, Connected Nation has been committed to the premise that every community, regardless of location, should have robust, affordable, reliable connectivity," said Tom Ferree, Chairman & CEO, CN. "Over the next several years, states will work in collaboration with the federal government to spend $42.45 billion on improved internet infrastructure under the Broadband Equity, Access, and Deployment (BEAD) Grant Program.
"One factor confronting the efficacy of that program will be that many areas still lack a neutral venue for networks to interconnect and exchange traffic locally—a fact that results in high prices and sluggish internet performance. Our JV aims to address that problem. No community deserves a second-class internet experience."
The venture's current list of locations is online (PDF), and the group invites proposals for new locations at [email protected]
CN has also produced a video explaining the IXP concept.