Swiss cable and connectivity company Huber+Suhner has taken over Polatis in an all-cash purchase. Polatis, which has $13 million in sales and 110 employees, develops and sells all-optical network switches.
The deal, which is expected to close in June, aims to strengthen Huber+Suhner's position in the fiber optic networking space.
Plenty of fiber
Polatis' all-optical network switches allow for faster switching speeds, better reliability and low optical loss when compared to conventional electrical/optical switches, the company said.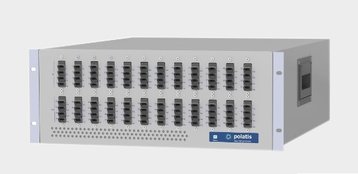 "We recently launched the 384x384 switch, which is the largest available network switch; in so doing Polatis has confirmed its leading position in the field of optical switches. After years of development work and successful deployment in a huge range of different applications, we are now poised for a breakthrough in the data center market," Gerald Wesel, CEO of Polatis, said.
Urs Kaufmann, CEO of Huber+Suhner, added: "Polatis' pioneering technology strengthens our position as the leading innovator in the field of fiber optics.
"Huber+Suhner will further invest into Polatis and we expect to see a breakthrough in the data center market and a positive financial contribution within the next 2 to 3 years. We are pleased that we can count on the full commitment of the complete Polatis management team as we continue to develop the company. "
After the deal closes, Polatis will become a business unit within the Fiber Optics division of HS. 
Two years ago, Huber+Suhner highlighted the role of its cables in the Rosetta space mission, which sucesfully soft-landed the Philae probe on comet 67P/Churyumov-Gerasimenko.