Chinese telecommunications giant Huawei will use Xilinx field programmable gate arrays (FPGAs) to power accelerated cloud servers available as part of Huawei Public Cloud.
Huawei's public infrastructure is sold by the company itself in China, and through partners like Deutsche Telecom, Orange and Telefónica around the world.
For FACS sake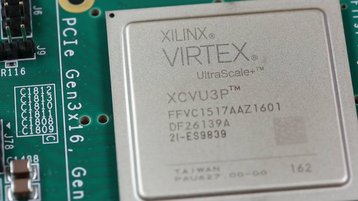 Huawei will use Xilinx's Virtex UltraScale+ lineup in its FPGA Accelerated Cloud Server (FACS) offering, which the company says can provide a 10-50x speed increase for compute-intensive cloud applications such as machine learning, data analytics and video processing. 
The service was announced at Huawei Connect 2017 conference.
"The Huawei FACS is a fully integrated hardware and software platform offering developer-to-deployment support with best-in-class industry tool chains and access to Huawei's significant FPGA engineering expertise," Steve Langridge, director of the central hardware institute at Huawei's Canada Research Center, said.
"Xilinx is a clear industry leader in FPGA acceleration and our considerable collaboration, both in the labs and in standards groups, has enabled us to create the best value possible for our customers."
The move comes after Baidu last year adopted Xilinx FPGAs in its data centers, for machine learning applications such as image and speech recognition.
At the time, Yang Liu, executive director at Baidu, said: "Acceleration is essential to keep up with the rapidly increasing data center workloads that support our growth."