A joint venture between Huawei Technologies and Global Marine Systems Limited, Huawei Marine Networks, is reportedly ready to begin the submarine route survey for the Pakistan East Africa Cable Express (PEACE) cable system.
In its first phase, PEACE will comprise a 6,200km network connecting Pakistan (in Gwadar and Karachi), Djibouti, Somalia and Kenya. It will eventually span 13,000km, reaching South Africa and Egypt.
DWDM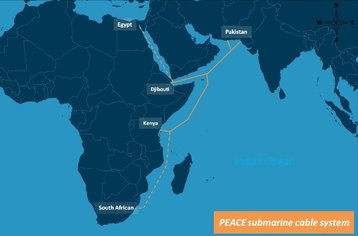 The system, designed by Chinese company Tropic Science, relies on 200G dense wavelength division multiplexing (DWDM) technology – used to increase bandwidth on fiber networks by transmitting multiple signals at once, at different wavelengths but on the same fiber. The system was designed to deliver a capacity of up to 60Tbps.
The survey will start on the 15th of January, once the desktop study (DTS) is complete, with the first phase of the project due by the end of 2019.
A DTS describes the preliminary steps to be taken before a cable route survey can begin, involving the analysis of data – whether geological, biological, legislative or climate-related - allowing for the definition of a scope of work for the marine cable route survey.