Chinese electronics giant Huawei has unveiled FusionServer G, a range of heterogeneous computing hardware designed as part of Atlas, the company's all-new 'intelligent cloud' platform.
The FusionSeries G range is focused on GPUs, integrating Nvidia's Tesla P100 and Tesla P4 products, and will be used as the foundation for Huawei's own GPU-accelerated cloud services.
"NVIDIA's deep learning computing platform provides strong support for Huawei's GPU-accelerated industry solutions, giving users a head start in this fast-growing market with increasingly fierce industry competition," said William Shen, vice president and general manager of Enterprise segment at NVIDIA China.
The hardware was demonstrated at the Huawei Connect 2017 conference in Shanghai.
More GPUs in the data center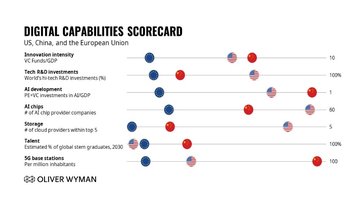 The term 'heterogeneous computing' refers to systems that use more than one kind of processor or core architecture in order to successfully tackle a large variety of tasks. Such systems aggregate different types of compute resources into a common pool, to be intelligently orchestrated based on workload requirements.
The term was popularized by AMD when it was promoting its Accelerated Processing Units or APUs – essentially large chipsets that combine CPUs and GPUs.
However, all major chip vendors have introduced heterogeneous computing into their products in some form, including Intel, Nvidia, Qualcomm, IBM and Cray.
Huawei says its take on heterogeneous architecture will be especially suitable for algorithm training and inference workloads, carried out on GPUs in machine learning applications.
"Today's enterprise service applications are rapidly evolving, and the types of workloads are also diversifying. These pose tremendous challenges on the efficiency and flexibility of computing platforms. With the G Series heterogeneous computing platform, we can help our customers better meet these challenges," said Qiu Long, president for IT Server Product Line at Huawei.
"Huawei is happy to join forces with Nvidia for comprehensive, deep collaboration in the AI computing front. We believe that both parties' innovation power will translate into powerful GPU Accelerated Datacenter platforms to help our customers travel more smoothly and swiftly in the digital transformation journey."
The FusionServer G range currently includes two servers, G2500 and G5500. The former is a video analytics platform for applications in fields like security and logistics. It supports 16 Tesla P4 GPU accelerators and 24 traditional 3.5-inch hard drives in a 4U chassis. The latter is a generic GPU-based workhorse for large data center deployments, accommodating eight Tesla P100 GPU accelerators in a 4U chassis. It is also compatible with the soon-to-be-released Tesla V100.