Chinese networking equipment giant Huawei is building an open cloud ecosystem fine-tuned for the needs of financial organizations.
To this end, the company has partnered with 11 banking IT solution providers including Micro Focus, Infosys and First Data, as well as local branches of professional services firms Accenture and Deloitte. The partners will focus on developing software and services, while Huawei will take care of underlying infrastructure, which will be based on clusters of standard x86 servers.
The initiative was announced at the Huawei Global Financial Services Industry Summit in Beijing, China.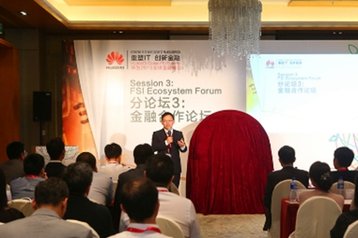 Down with the mainframe
According to Huawei, Internet companies have achieved great success by deploying cloud computing and open architectures, but the benefits of these technologies are currently lost on the banking sector, which remains resistant to change and dependent on mainframes.
The company believes open source software and distributed processing on standardized infrastructure have been improved to a point where they can meet reliability and security requirements of the banking community.
Huawei will be working with other members of the ecosystem to develop a number of new platforms and services, aiming to help more organizations make the jump into the cloud.
New products supported by the company will include a private online banking cloud, a credit loan cloud, a direct banking cloud, a micro-and-small-loan service cloud, a core account cloud, a credit card core application cloud, as well as mobile teller and home banking capabilities.
"In line with Huawei's Business-Driven ICT Infrastructure (BDII) guiding principle, the new ecosystem is designed to address the IT transformation needs of financial organizations," explained David He, president of Marketing and Sales at the Enterprise Business Group, Huawei.
"The new ecosystem promotes BDII within the financial industry by enabling our partners to focus on their core competencies. For example, consulting firms, application vendors, and system integrators will be able to leverage their in-depth understanding and practical experience around industry applications, while Huawei, as a hardware platform provider, will focus on ICT infrastructure."
The full list of Huawei's financial ecosystem partners so far:
Accenture (China)
Beijing Advanced Digital Technology (ADTEC)
Beijing Yucheng Technologies
BeiMing Software
DHC Software
Deloitte Business Advisory Services
Digital China System Integration Service
First Data
Infosys
Micro Focus
Worldline Technologies