President Xi Jinping has become the first Chinese head of state to address the World Economic Forum, with a speech this week in Davos calling for the international community to embrace globalization.
The General Secretary of the Communist Party was accompanied by some 80 business leaders, including those from Alibaba, Huawei and Dalian Wanda.
No one is a winner in a trade war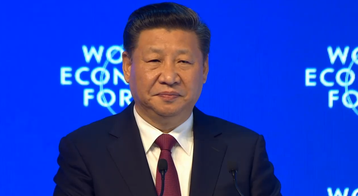 "Protectionism is like locking yourself in a dark room, which would seem to escape wind and rain, but also block out the sunshine," Xi said in the keynote speech. "No one is a winner in a trade war."
While he was never explicitly mentioned, it is likely that Xi was referring to the US president-elect Donald Trump. Set to assume office in just three days, Trump has regularly entertained the idea of a trade war with China (as well as Mexico).
"There is no point in blaming economic globalization for the world's problems because that is simply not the case," Xi said. "And that will not help to solve the problems.
"The history of mankind has shown us that problems are not to be feared. What should concern us is the refusal to face up to the problems."
He Weiwen, deputy director of the Beijing-based Center for China and Globalization told Bloomberg: "It shows China is not underestimating the danger of a trade war breaking out.
"China used to be a mere supporter of the U.S.-led global economic order. Now, as the incoming U.S. presidency shows signs of retreating, China is stepping up to take a leading role."
The Chinese government also said that it would ease limits on foreign investment in banks and other financial institutions. Restrictions to foreign investment in the Internet and telecommunications sectors will be opened "in an orderly way," the State Council said.
"Very importantly, he made commitments about opening China up to more imports and foreign direct investment and making sure that China's exchange rate policy didn't destabilize the global economy," IHS Markit chief economist Dr Nariman Behravesh told The Guardian. "All this is very encouraging."
"However, actions speak louder than words. A lot will depend on what China does. This is a good start. This is a good set of commitments on his part. It is encouraging, but we will see what the follow through is."
While Xi's pro-globalization comments have been welcomed by those concerned by Trump's statements and Britain's planned actions, China has yet to fully follow this message.
When it comes to technology, of particular concern is the nation's new cyber security law which appears to favor domestic tech corporations and make it difficult for foreign companies to do business.
Xi also spoke out in favor of sticking to the Paris Climate Agreement, which he said all the signatories should honor. Again, this is thought to have been targeted at Trump, who has called climate change a Chinese hoax, and said that he wanted to pull out of the agreement.
The Chinese President said that his country's efforts to pursue green development were "paying off," and added that other nations should "relentlessly pursue" innovation in this area. Earlier this month, China said it would invest $360 billion in renewable energy projects by 2020, and  earlier this week China's energy regulator announced that it had ceased development of more than 100 coal-fired power plants, including some which were still under construction.
However, China lags in many areas when it comes to green technology, notably data centers - last week's Greenpeace report on technology companies was highly critical of Chinese tech giants like Baidu, Tencent and Alibaba.
The Communist and the Billionaire
Accompanying Xi to Davos were several leaders of major Chinese businesses, particularly in the field of technology and infrastructure. Among those attending were Alibaba's founder Jack Ma, Huawei's Chairwoman Sun Yafang, China Telecom's Chairman Yang Jie, Baidu's President Zhang Yaqin, China Poly Group's Chairman Xu Niansha, and Dalian Wanda Group's Chairman Wang Jianlin.
Ma, who met Donald Trump last week, is China's richest man, while Wang Jianlin is its second richest, according to the Bloomberg Billionaires Index.
"This year, because of the size and scale of the China delegation, we have Chinese voices in most of the global discussions," WEF's chief China representative, David Aikman, said in a press briefing.
In a panel later today titled 'China's Pivot to World Markets,' the CEO of CITIC Capital Holdings, Zhang Yi-Chen, the CEO of China Electronics Corporation, Liu Liehong, and the Group President of China Merchants Group, Li Xiaopeng, are expected to explore "how Chinese companies' global investments are transforming industries and markets around the world."
CITIC owns numerous data centers globally, while China Electronics Corporation is one of the largest producers of telecom equipment in its homeland, and China Merchants Group has extensive real estate and infrastructure assets.