Huawei and the Abu Dhabi Marine Operating Company (ADMA-OPCO) have brought a new data center online to process the huge volumes of data created by offshore oil exploration and production.
The 'Cloud Ready Data Center' will integrate with the company's three existing data centers, and is spread across two sites 200 km apart for redundancy. 
Huawei looks to the Middle East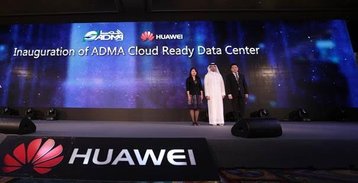 ADMA-OPCO is a subsidiary of Abu Dhabi National Oil Company, a state-owned enterprise that produces 2.9 million barrels per day.
As the country's biggest company, it has access to UAE's 97.8 billion barrel oil reserve - the seventh-largest proven reserve in the world. 
"The Cloud Ready Data Center we built with Huawei supports seamless integration with our existing infrastructure, which maximizes our IT operation efficiency, optimizes IT resource management, and boosts IT resource utilization," ADMA CIO Alaeddin Al-Badawna said at the Huawei Global Energy Summit in Abu Dhabi.
"We expect to see a 30 percent drop in the operation and maintenance (O&M) costs of the data center."
"Virtualization-based cloud computing can ensure high service continuity and greatly facilitate our business expansion. In addition, Huawei's geographic disaster redundancy technology provides enhanced security for our key business data and applications."
He Tao, president of Huawei Middle East enterprise business department, added: "Huawei has worked closely with ADMA-OPCO to clearly understand their requirements and provide an end-to-end overall cloud data center solution to build a simplified, open, and elastic data center for ADMA-OPCO. This Cloud Ready Data Center will support more flexible services and applications, helping ADMA-OPCO excel amidst fierce market competition.
"The commercial rollout of this Cloud Ready Data Center is a testament to Huawei's understanding of the specific needs of this particular business and positions Huawei as a leader among data center solution providers for global high-end oil and gas customers, as well as accelerate Huawei's technological influence in this area and more."
Huawei's influence in the region is indeed growing, with the company only last month announcing plans to build a large modular data center campus for Dubai International Airport.
But the Chinese tech giant is not alone in viewing the Gulf as a lucrative market opportunity, with Alibaba's cloud subsidiary Aliyun teaming up with Dubai-based Meraas Holding to offer cloud services in the region, and Oracle set to build its own data center in Abu Dhabi.