HPE has started revealing the results of a $4bn investment in the so-called intelligent edge announced earlier this year, introducing a new EdgeLine box, the EL300 Converged Edge System, along with an automation platform and a management service for industrial edge computing.
"Quite frankly, I have more to tell you," said Dr Tom Bradicich, HPE's VP and general manager for converged servers, edge and IoT, at the company's Discover event in Madrid. "But my colleagues won't let me yet."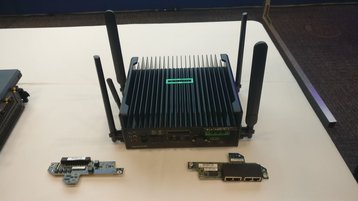 Putting the edge to work
Bringing enterprise capacity to the edge is what will differentiate HPE from its competitors in this space, Bradicich said.
The company' edge offering already includes ProLiant m510 or m710x server blades with up to 64 Intel Xeon cores and full-stack compatibility with enterprise software from the likes of VMware, Citrix, SAP and Microsoft.
The EdgeLine Converged Systems - which, in addition to the new EL300, include the EL1000 and the EL4000 - are ruggedized boxes with 40GbE interconnects, infrastructure management and control software, data acquisition systems, industrial networking and sensors, integrated in a single box with compute, allowing for analysis and action upon the collected data - and, according to Bradicich, supporting the deployment of OT/IT applications.
"We did not invent the IT," he said. "We did not invent the OT. But we are the first to put it in the same box."
Meanwhile, the EdgeLine OT Link, the company's new industrial platform, includes a workflow engine and an application catalog - with supported software and service vendors including AWS, Google, Microsoft, SAP and more.
In an interview with DCD, Bradicich said that thanks to the converged systems, "the same IT skills that run the data center can run the manufacturing floor edge."
"When we take an open x86 architecture, like in the data center, out to the edge, and we run VMware unmodified, and we run Citrix Zen servers unmodified, and we run Microsoft SQL server databases unmodified, and we run Microsoft Azure unmodified, the same skills can be applied, and then the same enterprise-level purchase agreements can be applied. So now you're not buying another edge version of software, you're simply buying the same software again."
With the addition of OT, he said, you have a system that is easy to move, consumes little energy, is reliable and offers high performance, "because the functions are all together." He added that it is easier to purchase, easier to deploy, and gives one the immediacy of cloud, at the edge.
Bradicich said the system integrates what is knows as the three Cs: capture, compute and control.
"And then you get into needing to move a robotic arm over one or two millimeters. We connect to the object, we can compute whether or not it's in calibration and then we can control whether or not we want to calibrate it and get it back."
"Unlike our competitors, we offer all three Cs."