Iceotope will offer liquid cooled Edge data centers fitted with HPE ProLiant servers.
The HPE servers and the Iceotope Ku:l Extreme chassis combine to make a ruggedized micro data center, which can be shipped to remote sites and enteprise data centers. Ku:l, announced in 2019, combines Iceotope's liquid cooling technology in Avnet racks, along with the EcoStruxure management technology from Schneider Electric.
This article has been updated to clarify that HPE is not selling Iceotope equipment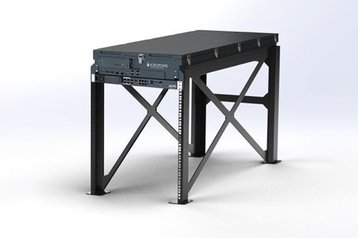 Liquid cooled Edge racks
The combined system is rugged enough for extreme Edge environments where people, airborne contaminants, moisture and the elements might damage IT equipment. It can also run in enterprise data centers without adding load to the existing cooling systems.
The Ku:l product was put together by Avnet, Schneider and Iceotope in 2019, delivering servers on standard boards in a 1U immersion cooling tray from Iceotope. Out of band management is provided by RedFish and Schneider's EcoStruxure.
Since then Lenovo has come on board, putting its ThinkSystem servers into the full and half-chassis versions of the system from November 2020.
"Today, IT and data center managers are being tasked to meet targets for sustainability whilst data gravity creates more complexity as it draws more and more processing and analytics power to the Edge," said Iceotope Technologies CEO, David Craig.
"There is a greater need for zero-touch edge computing capabilities to ensure reliability at remote locations when in-person monitoring and maintenance is not always feasible," said Phil Cutrone, vice president and general manager of Service Providers, OEM and Major Accounts at HPE.
"The use of precision immersion cooling is inevitable, especially with the explosive requirement for reliable, high performance edge computing," said Nicole Enright, President of Avnet Integrated.