Hewlett Packard Enterprise (HPE) has partnered up with Docker to run distributed applications across multiple data centers.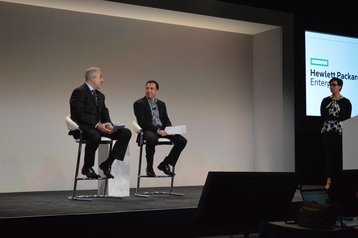 The 'strategic alliance' was announced at HPE Discover conference, with products expected to launch in Q4 2016.
Dock and load
The highlight of the partnership is the forthcoming release of Docker-ready servers in HPE's ProLiant, Apollo and Cloudline product ranges, as well as Docker-ready converged and composable systems, such as Synergy, BladeSystem and Converged System.
Speaking to the press, Ben Golub, CEO of Docker, explained why he thought his product was important: "Of course everybody wants to be more agile, and a few years ago I think people thought 'well my only options if I want to be agile is either to re-do all of my data centers - which is a years long transformation - or give up and have everything running on a public cloud provider.'
"Part of the excitement people had around Docker is that you can get agile with your applications without having to immediately transform your infrastructure. So you can take the same application, you run it inside a Docker container and know that that same application will run consistently, whether it's on Amazon, or if you want to go with Azure, or if you want to move it on premises, or if you want to run it on traditional VM. And that's enormously liberating."
He continued: "It also gives you the ability to start moving in an evolutionary way towards a new stack, instead of having monolithic applications that are slow to change from the single server.
"That's enormously powerful, because it means you can start the transformation in weeks, not in months. You can get benefit from day one, whether you choose to run legacy infrastructure, if you want to run in a composable next-generation on-premise infrastructure, whether you want to use the public cloud, all those options are there, and you haven't locked yourself in."
Antonio Geri, VP and GM of HPE's enterprise group, added: "At the end of the day, the challenge a CIO has to meet is to improve time-to-value, and I think technologies like containers enables them to accomplish that."
On top of the hardware release, HPE will enable Docker on its cloud and software products, such as HPE Helion Cloud Suite, AppDefender, Operations Bridge monitoring, CMS and Universal Directory configuration management. HPE will also offer technology assessments, design and implementation for Docker containers and microservices, as well as 24/7 'enterprise-grade' support.
After the announcement, Golub said: "Consider what it means that the vast majority of servers that will been shipped for converged systems and hyperconverged systems, will be shipping with a Docker commercial engine, Docker commercial support beam, being Docker-ready.
"That will make adoption of this technology, which is already at a record pace, [increase further]. It is already causing people to release code 13x faster and run 15-20x more efficiently. This is incredible."