US computer giant HP Inc has put its Liffey Park technology campus on the outskirts of Dublin up for sale, at a price thought to be in the region of €50-€60m.
CBRE has been appointed to sell the 195-acre manufacturing complex, in Leixlip, Co Kildare, which holds nine main buildings including high quality manufacturing, clean room, warehouse and office space. The site could be used for data centers by a new owner, with a 16MVA diverse feed power supply. It is close to Intel's 360 acre site in Collinstown Industrial Park, which is set to increase its workforce to 2,850 over the next three years.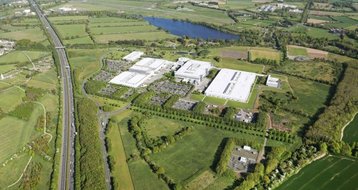 HP source
"Given that Ireland is the fastest growing economy in Europe and a gateway to European and global markets, we expect this opportunity to have very strong appeal to both global investors and end users," said Willie Norse, executive director at CBRE Dublin. "This will represent one of the largest industrial and indeed overall property disposals in Ireland in recent years."
The HP campus was developed in the 1990s, and fell under the control of HP Inc (the PC and printing part of HP) in 2015, when this split off from Hewlett Packard Enterprise (HPE) which sells servers and enterprise services.
Earlier this year HP Inc announced that it would cut hundreds of jobs and close its printing business at Liffey Park. HPE was unaffected and is still based at Leixlip.
The space for sale has a gross floor area of approx 1.46 million sq ft (136m sq m), along with 70 acres of undeveloped land which could hold further buildings subject to planning permission, CBRE said.
Around 35 percent of the site is rented out, generating more than €3.8 million of gross income (presumably from HPE), according to CBRE. 
The site is 21km from Dublin, on the M4 motorway which links Dublin to Galway and the west of Ireland. It is 33km from Dublin Port, and 17km from Dublin Airport.
CBRE says Dublin was the third best performing data center market in Europe in 2016.