Horry County officials in South Carolina are looking to sell more than 20 acres of land to an unnamed company for a cable landing station.
My Horry News reports that the County council on Tuesday passed the first of three votes needed to sell the land at the International Technology and Aerospace Park (ITAP) to a company that plans to build a data center for a new subsea cable connection in Myrtle Beach.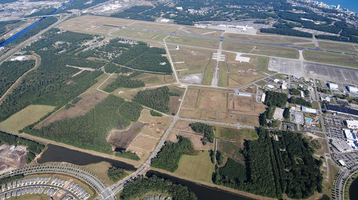 The land is reportedly for sale at a price of around $3 million. The proposed buyer has not been disclosed, but county documents state that the property is being sold for a "multi-tenant data center and multi-cable subsea cable landing station."
"This project would be the anchor of a lot of other projects that could quickly follow that would probably max out ITAP in a very short period of time," said Horry County Councilman Gary Loftus, whose district includes the industrial park. "That, I think, is the bonus. … A project like this fosters so many other companies."
Myrtle Beach currently doesn't have any cable landing stations, but two cables are due to land there in the near future. Announced last year, Google's Firmina cable will run from South Carolina in the US to Las Toninas, Argentina, with additional landings in Praia Grande, Brazil, and Punta del Este, Uruguay. The 12-fiber pair cable is named after Brazilian novelist Maria Firmina dos Reis. It is due to launch in 2023.
Confluence 1, from Confluence Networks, will span the US eastern seaboard and run from Sunny Isles, Florida, to Wall Township, New Jersey. It is also due to go live in 2023; both cables are being supplied by Subcom.
The Myrtle Beach International Technology & Aerospace Park (ITAP) is a 460-acre hub aiming to support the aerospace and technology industries. MHN notes that the project also hinges on the Federal Aviation Administration (FAA) allowing the sale of the property, which once belonged to the US Air Force. The land's FAA obligations require that the proceeds from the sale go toward airport operations.
While the purchasing party has been redacted, county documents make reference to DC Blox later in the agenda packet under legal definitions for the land sale. The Georgia-based company has a data center in Greenville, South Carolina as well as Tennessee and Alabama. It lists Charleston and Columbia as future planned locations in South Carolina.
The agreement suggests the CLS will likely serve Google -- making reference to its intended use as a CLS for an undisclosed 'cloud technology company' -- but the sale agreement will be null and void if said cloud company decides not to land the cable at the facility.
More in Construction & Site Selection