Hitachi Data Systems (HDS) has launched a new integrated computing and storage module for hyper-converged infrastructure building in VMware environments.
The Hitachi Unified Compute Platform (UCP) 1000 for VMware EVO:RAIL is a simple appliance, pre-built for hyper-convergence, according to the vendor. It's intended for quick, cheap construction of systems for the remote office, test and development departments, virtual desktops and other virtual creations.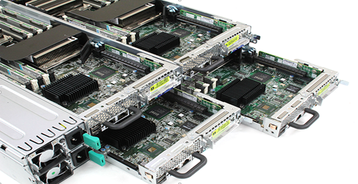 Cutting costs
By cutting the complexity, it will cut operational costs and make it easier to convert traditional data centers into arenas of virtualized private, public and clouds, says HDS.
In addition, new VMware vSphere Virtual Volumes will support the Hitachi Virtual Storage Platform (VSP) G1000 so that customers can automate virtual machine management through policy. Optional integration with Hitachi Data Ingestor software will allow for 'bottomless' backup, either on-premise with Hitachi Content Platform (HCP) or in the cloud with Hitachi Cloud Service for Content Archiving.
Companies are swapping standalone computing, networking and storage systems for converged ones in a bid for simplicity, according to Ravi Chalaka, a marketing VP at Hitachi Data Systems. "Now partners and customers can meet their business objectives," said Chalaka.
Analyst Clive Longbottom, senior researcher at Quocirca, said HDS is 'part of the crowd' (pioneered by IBM, Dell, HP, Nutanix, Simplivity) which is making a strong move to hyperconverged systems. "It makes a lot of sense, as the vendor can do all sorts of things inside the box with connection busses and so on," said Longbottom, "They can be as proprietary as they want, though people still want essentially commodity items inside the box, as long as the box talks all the standards that people need once it is connected to the rest of the network. Expect to see a lot more systems come through – we're still at the early stage of this market, so there's lots of work still to be done. New players, like Player 9, are entering here as well."