British data center testing specialist Hillstone has launched a new load bank range designed for permanent installation.
The loadbank_Genset family consists of resistive load banks that enable continuous testing of power distribution systems and can increase the load on generators in order to maintain SLAs and warranty conditions.
"The benefits of having a permanent load bank connected to the genset system include validation of fuel supplies, prevention of wet stacking and associated operating savings in energy costs," said Paul Smethurst, managing director of Hillstone.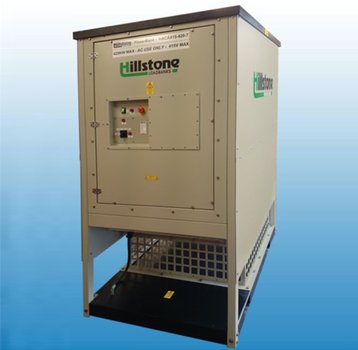 Burning diesel

Hillstone is based in Manchester, where it has been making load banks for nearly 25 years. Its latest product range was designed to sit alongside data center generators and produce extra load when necessary.
Backup generators are typically installed to perform under maximum load, something that can be difficult to achieve in a facility that hasn't reached 100 percent occupancy. Operating the engine at less than 60 percent of its rated power output for extended periods can cause Wet Stacking - a condition in diesel engines in which not all the fuel is burned and passes on into the exhaust system.
Adding a load bank can completely mitigate this issue. loadbank_Genset devices can also be used to test battery systems, UPS systems, fuel cells and HVAC systems. They can be operated in either manual or automatic mode, and ferature software integration with popular BMS and DCIM systems.