Western Digital subsidiary HGST has claimed that filling hard drives with helium instead of air makes them more, not less reliable.
After shipping more than one million drives based on proprietary technology, HGST has rated them as having 2.5 million hours Mean Time Between Failures (MTBF). For comparison, the Re+ HDDs launched by Western Digital earlier this month have an MTBF of around 1.2 million hours.
HGST is the world's only manufacturer of helium-filled HDDs - this unorthodox approach gave the company an early lead on high-capacity 6TB drives. It has long claimed using helium can deliver plethora of benefits while critics questioned a hard drive's ability to maintain a hermetic seal which keeps hydrogen molecules in place.
Up and away
HGST first began shipping its Ultrastar He6 drives at the end of 2013. They come in standard 3.5-inch form-factor and spin at traditional 7,200 RPM. The inert gas inside – helium - offers less resistance than air: this simple property enables HGST to simultaneously reduce power requirements, weight, disk vibration, mechanical wear and drive temperature.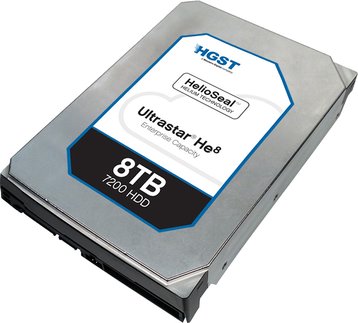 Early customers willing to test the technology included Netflix, Huawei and HP. HGST says these trieals have proven that individual helium-filled drives, on average, last twice as long as their air-filled cousins. These numbers are likely to increase the share of helium-filled drives seen in the data center.
"As an early adopter and proponent of HGST's HelioSeal platform, we quickly saw the benefits of this technology as it delivers the best storage density, reliability and the lowest power for our video streaming appliances," said David Fullagar, director of content delivery architecture at Netflix.
HGST is now shipping the second generation HelioSeal Platform drives with 8TB of capacity -Ultrastar He8 - and ramping up the production of helium.
The company has already sent off samples of its 10TB HDDs to prospective customers. They combine helium with Shingle Magnetic Recording (SMR) technology – which partially overlaps data tracks to squeeze more information onto a disk surface
HGST expects that by 2017, half of the enterprise capacity drives it ships will contain helium.
"With more than one million drives deployed, the rapid industry adoption of this revolutionary technology affirms our commitment to helium as the foundation for all future scaling technologies," said Brendan Collins, vice president of product marketing at HGST.
"With a valued-based pricing strategy in place and manufacturing investments to promote the increased volumes, HGST is on an accelerated path to delivering higher capacities and better TCO into existing and future form factor designs."