Hewlett Packard Enterprise has signed a definitive agreement to acquire SGI, formerly known as Silicon Graphics, for $275 million.
The price paid for high-performance computing (HPC) and big data analytics business is a 30 percent premium over SGI's Thursday closing stock price, but well below the value the company had just a few decades ago.
SGI has around 1,100 employees worldwide, and had revenues of $533 million in fiscal 2016, recording a loss of $11 million.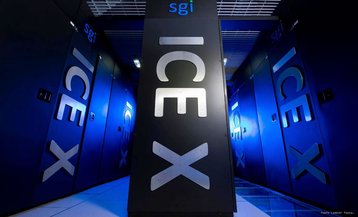 Never regret thy fall, O SGI of the fearless flight, for the greatest tragedy of them all, Is never to feel the burning light
Founded in 1982, SGI grew quickly as it pioneered early desktop workstations and hardware for 3D image manipulation, as well as servers and supercomputers. By 1995, its market value was over $7 billion.
But after suffering from mismanagement, constant leadership changes, and the rise of companies like Nvidia who sold cheaper chips of similar use, SGI's value began to plummet. With low priced Intel x86 microprocessors eating into its server business, and a failed attempt to sell workstations running Windows NT, business continued to falter.
In late 2005, the company was delisted from the New York Stock Exchange, with a value of $120 million. SGI filed for bankruptcy the next year, trying to reduce debt as it sold its headquarters to Google (the site later becoming the Googleplex).
A second Chapter 11 bankruptcy proceeding in 2008 saw its assets purchased by x86 server vendor Rackable Systems, which assumed the SGI name. The new SGI focused on high-performance computers, storage hardware and big data analytics software.
"SGI's innovative technologies and services, including its best-in-class big data analytics and high-performance computing solutions, complement HPE's proven data center solutions designed to create business insight and accelerate time to value for customers," Antonio Neri, EVP & GM at HPE, said of the latest acquisition.
Jorge Titinger, CEO and president of SGI, added: "Our HPC and high-performance data technologies and analytic capabilities, based on a 30+ year legacy of innovation, complement HPE's industry-leading enterprise solutions. This combination addresses today's complex business problems that require applying data analytics and tools to securely process vast amounts of data.
"The computing power that our solutions deliver can interpret this data to give customers quicker and more actionable insights. Together, HPE and SGI will offer one of the most comprehensive suites of solutions in the industry, which can be brought to market more effectively through HPE's global reach."
Subject to regulatory approvals, the acquisition will close in the first quarter of HPE's fiscal 2017. HPE said that it expects the deal on to be neutral to earnings in the first full year following close, and add to its profit from then on.