Air Chief Marshal Sir Stuart Peach, Britain's Chief of the Defence Staff, has highlighted the risk of a Russian attack against submarine network cables.
His comments, made during a speech at the Royal United Services Institute (RUSI), a military think tank, follow similar comments earlier this month by center-right think tank Policy Exchange. Due to the perceived threat, Peach called for increased funding of Britain's navy.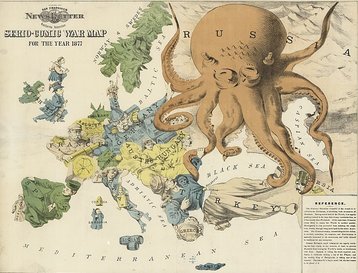 A war of words
"The risks to our [NATO] alliance continue to increase," Peach said. "In response to the threat posed by the modernization of the Russian navy - both nuclear and conventional submarines and ships - the UK and other Atlantic NATO allies have had to prioritize missions and tasks in order to protect the sea lines of communication."
He added: "In addition Russia continues to perfect unconventional capabilities and information warfare."
"There is a new risk to our prosperity and way of life, to the cables that criss-cross our seabeds, disruption to which through cable-cuts or destruction would immediately - and catastrophically - fracture both international trade and the Internet."
Peach, who will become Chairman of the NATO Military Committee next summer, continued: "Can you imagine a scenario where those cables are cut or disrupted, which would immediately and potentially catastrophically affect both our economy and other ways of living if they were disrupted. Therefore we must continue to develop our maritime forces with our allies, with whom we are working very closely, to match and understand Russian fleet modernization.
"We can do some things about it, but not enough because our anti-submarine warfare capability has been seriously neglected. The anti-submarine warfare package has been underfunded and has not been looked after well enough."
The senior Royal Air Force officer's comments echoed those of Policy Exchange's report, primarily written by Conservative Member of Parliament Rishi Sunak, that noted: "If an adversary were to succeed in executing a successful attack against Britain's undersea cable infrastructure the result would be financial disaster on an unprecedented scale."
Robert Hannigan, former Primer Minister's Security Advisor and former Director of British intelligence agency GCHQ, endorsed the report and then, in an interview with The Times, warned of Russian attacks, adding: "In hybrid warfare, you could tweak the UK economy, even without bringing it to its knees, by just cutting a few [fiber-optic cables]. You could make life pretty difficult if you wanted to without going for full conflict."
This drew the attention of the official Twitter account of the Russian Embassy in the UK, which held a poll:
Thanks for voting, we appreciate your opinion! (though Comrade Krakenski is not available right now) Hope @thetimes will enjoy the results! pic.twitter.com/AnWMGbkbjp

— Russian Embassy, UK (@RussianEmbassy) December 6, 2017
Today's comments by Peach again led to a response:
Try a positive approach: "Fog in English Channel, Continent isolated" pic.twitter.com/iHpOwTfYm9

— Russian Embassy, UK (@RussianEmbassy) December 15, 2017
Britain's foreign secretary Boris Johnson is set to meet his counterpart, Sergey Lavrov, this week in the first visit to Russia by a senior UK minister in five years.
Update:
The Russian Embassay said in a statement:
"Such sensationalist statements can cause but regret, as they are fanning the flames for the unwholesome sentiment created by PM Theresa May's "banquet speech". Instead of discussing European security, an important issue for all the European nations including UK, London keeps speculating on numerous mind-boggling scenarios of a hypothetical conflict. The reasons look obvious – but even if the UK military needs money so badly, why intimidate people this much?"