South Korean group Hanwha is to invest in 'green' data centers.
Hanwha Solutions has signed a memorandum of understanding (MoU) with SKS Credit, an ESG professional manager (PEF), for joint development of data centers and logistics centers linked to new and renewable energy.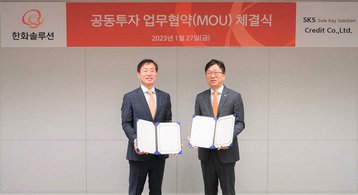 Under the agreement, Hanwha Solutions plans to 'discover and invest' in eco-friendly data center and logistics center development projects linked to new and renewable energy generation, while SKS Credit plans to raise investment funds by creating a new fund worth 250 billion won ($202m).
Shin Dong-jin, head of Hanwha Solutions Division, said: "As major companies' achievement of RE100 and renewable energy procurement have become more important than ever to secure competitiveness in the global market, we will actively engage in new and renewable energy development projects in Korea."
SKS Credit is a subsidiary of SKS Private Equity (PE) and is an asset management company that focuses on alternative investments and ESG funds.
An official from SKS Credit said: "Investor sentiment is dampened by high interest rates and unstable financial market conditions, but investment in the renewable energy infrastructure field, where stable profits are expected, continues to attract interest, so successful fundraising is expected."
Hanwha said it has been promoting building eco-friendly data centers in industrial complexes in Yongin and Anseon since last year.
The company previously invested in crypto data center firm Lancium. Hanwha Systems is an investor in satellite firm OneWeb.
Hanwha's Qcells unit has previously supplied a number of data center companies with solar panels, and has recently signed a new agreement with Microsoft.