Irish data center power company Hanley Energy is expanding in Loudoun County, Virginia
The Stamullen, Ireland-based company is leasing a 36,600 square foot (3,400 sqm) light industrial building on Russell Branch Parkway near Route 7 in Loudoun County from Merritt Properties.
Merritt bought the 6.7-acre building site in late 2020 with plans to build a speculative light industrial building known as Ashbrook 10. Construction is due to begin in June and scheduled to deliver in Q1 2022. Construction will be managed by Merritt Construction Services.
As well as manufacturing and assembly operations, the new facility will serve as the US headquarters for Hanley, which provides power and energy-monitoring products and services to data centers.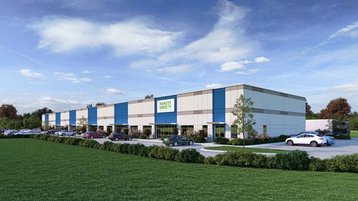 "Deciding to base our North American Headquarters in Loudoun, Virginia was a global strategy choice," according to Clive Gilmore, CEO and co-founder of Hanley Energy. "Loudoun's strong governance, conducive business environment, and proximity to international travel has allowed Hanley Energy to fill international and regional roles with world-class talent and firmly underscores a unique platform for Direct Foreign Investment."
The company plans to hire 50 new employees for the Ashburn location by the end of 2021 and an additional 120 by the end of 2022. The new positions will primarily be technical roles in areas such as electrical engineering, design engineering, manufacturing, and electrical testing.
"It has been an honor to partner with Hanley Energy as they have established their roots here in the US and built a tremendous reputation in the market," said Scott Longendyke of Merritt's Virginia office. "The growth they've experienced is clearly a testament to their character as a company, as well as their products and service. We are proud to be a part of their story."
The move marks Hanley's fourth expansion with Merritt since leasing a 3,500 sq ft (325 sqm) warehouse bay when the company first entered the US in 2016.
"Merritt successfully and efficiently managed every minute detail of Hanley Energy's turnkey office build, and as our company has continued to grow, Merritt has facilitated seamless expansion four times," added Gilmore.