American colocation specialist H5 Data Centers is expanding its data center in downtown Atlanta.
The new data halls will add 22,000 square feet to an already huge 110,000 square feet facility - enough space for another 250 server cabinets.
The company said the expansion will increase the capacity of the carrier hotel, following a deal that saw H5 lease 7,000 square feet of powered shell space to a single customer in 2017.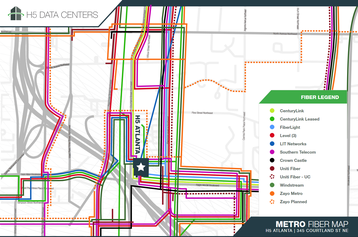 Lots of connectivity

H5 Data Centers is a privately-owned company that operates data centers in Ashburn, Atlanta, Charlotte, Cleveland, Denver, Phoenix, San Jose, San Luis Obispo and Seattle, and has recently acquired a carrier hotel in Cincinnati.
Today, the company manages a total of more than two million square feet of data center space.
The facility at 345 Courtland Street NE in Atlanta serves as a carrier hotel, with direct access to more than a dozen metro and long-haul fiber providers including AT&T, CenturyLink, Level 3, Telia Carrier, Verizon and Windstream. It also features redundant utility feeds from Georgia Power's high capacity grid, along with 2N UPS distribution.
"Atlanta is one of the country's top points of interconnection," said Josh Simms, chief executive officer of H5 Data Centers. "345 Courtland is host to numerous long-haul network cables and is a diverse network access alternative to 56 Marietta and 180 Peachtree. H5 Data Centers' new data center space will help bolster the size and resiliency of the Atlanta interconnection and edge data center landscape."