Greenpeace has praised Apple's commitment to using renewable energy in the latest edition of Clicking Clean, its report on moves to reduce the Internet's environmental footprint.  The report criticizes Amazon, as well as the monopoly electricity utilities which Greenpeace says are holding back renewable power.  
The annual Clicking Green report aims to encourage a greener Internet, and marks leading cloud players according to their energy strategy, including their use of renewable energy, their "advocacy" for renewables, and their efforts on efficiency and sources. It also marks them for transparency.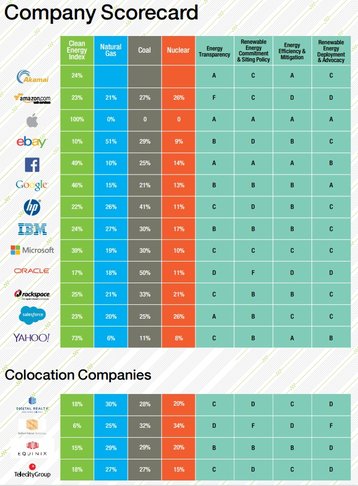 Good marks for Apple
Greenpeace gives Apple straight A's across the table, praising it for its commitment to and advocacy for renewable energy. A year ago, CEO Tim Cook famously told some rebellious shareholders at a meeting, that Apple is committed to renewable power, and anyone who doesn't like it should invest in a different company.
Amazon Web Services (AWS) gets low scores, including an F for transparency. The company has promised to move to 100 percent renewable energy, which earns it a C for commitment, but it scores low on transparency because it hasn't yet said how it will get there.  
"By continuing to refuse to provide any information on the energy consumption or greenhouse gas footprint of its data centers and other infrastructure, Amazon falls further out of step not only with its IT sector competitors, but also with the rest of major global corporations," says the Greenpeace report.
Amazon has responded with a statement that says Greenpeace's report is "inaccurate and misguided," and has not correctly calculated what proportion of its data centers' energy comes form renewable sources.
"We've told Greenpeace it's wrong, but they chose to publish it anyway," the statement said. Presumably Greenpeace published its estimates in the absence of accurate figures from Amazon. 
"We remain committed to providing our infrastructure technology platform in as environmentally friendly a fashion as possible," says the Amazon statement. 
Utilities blocking green power
Energy utilities come in for more criticism, for blocking the use of renewable energy. Duke Energy, for instance, is effectively a monopoly in North Carolina, where both Facebook and Google have large data centers.
Duke has grudgingly offered a "green electricity" tariff but designed it so badly that no one is using it, Greenpeace says. 
"Monopoly electric utilities which sell electricity that's powered by mostly coal, and very little renewable energy, are the sole energy providers to several critical data center hubs, which continue to attract significant new data center investment," the report explains. "Prominent examples of such utilities - including Duke Energy (North Carolina), Dominion Resources (Virginia), and Taiwan Power Company (Taiwan) - have all recently established green electricity tariffs to provide a renewable electricity option for their large customers, but they have not yet attracted customers due to their poor design and locked-in price premium, even though renewable energy is increasingly at parity with, if not superior to, traditional sources of generation."
The report calls for data center operators and other customers to collaborate in putting pressure on utilities to offer better renewable energy tariffs.
The other F-grade in the table goes to Oracle, for its renewable energy commitment. It's one of the few big cloud players that hasn't got a promise to go renewable.
"While there may be significant energy efficiency gains from moving our lives online, the explosive growth of our digital lives is outstripping those gains," warns Greenpeace. Greenpeace has estimated that the aggregate electricity demand of the world's digital infrastructure would already have ranked sixth in the world among countries back in 2011, and it has increased usage since then.