Asian tech giants have been criticized for their lack of commitment to environmental goals, in a Greenpeace East Asia report
Samsung Electronics, Xiaomi, and Alibaba were all singled out for criticism, in Greenpeace East Asia's first regional tech ranking, The Race to Green. Sony's lackluster C+ was the best score in a report which took the region's tech companies to task for their lack of global 100 renewable energy commitments, and their failure to include supply chains, or to set emission reduction targets.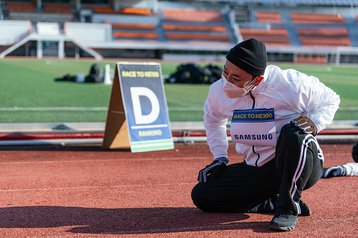 The report was launched in an event at the Hyochang Stadium in Yongsan-gu, Seoul, where activists posed to show the tech giants failing in a "Decarbonization Race."
Tech brands aren't trying
"Last year, China, Japan and South Korea issued landmark climate pledges, but the biggest tech companies in our region haven't caught on," said Greenpeace East Asia climate and energy campaigner Xueying Wu.
"Leading global brands including Samsung and Xiaomi have not issued global 100 percent renewable energy targets or substantially increased their renewable energy use. Samsung Electronics recently announced that it has achieved 100 percent renewable energy in the US, Europe, and China, but it continues to rely on fossil fuels in South Korea and Vietnam, which account for more than 80 percent of the company's electricity use."
As well as failing in ambition, the companies were also criticized for their lack of execution. "Few of the ranked companies have followed through on their commitments with real action," said the report.

The tech sector is a big source of carbon emissions in East Asia, and it is growing fast, says Greenpeace. The combined electricity consumption of the 30 ranked companies totals approximately 200,000 GWh per year, which is more than the entire electricity consumption of Thailand.
Yahoo Japan and Rakuten are the only companies to commit to using 100 percent renewable power before 2030, promising to achieve this goal by 2023 (Yahoo Japan) and 2025 (Rakuten) respectively.
In Korea, Samsung Electronics alone consumed the equivalent of one fifth of South Korea's total household electricity consumption, and the company has not made any promise to move to renewable energy in Korea. Xiaomi and Alibaba join Samsung near the bottom of the rankings, as they also haven't even made the net-zero promise yet
While Sony came top, it performed poorly. Although the company has promised to use 100 percent renewable energy by 2040, and reduce emissions across its supply chain, it only powers seven percent of its operations by renewable electricity currently.
Meanwhile, though half of the ranked companies have promised to move to net zero or carbon neutrality, only two of the companies, Rakuten and GDS, have actually achieved a modest 20 percent renewable energy usage.
Companies are also happy to hide emissions or ignore those they create within their ecosystem. Only three companies (Sony, Toshiba, and Hitachi) include emissions from their supply chain in their greenhouse gas emission reduction targets.
"Global tech companies need to achieve 100 percent renewable energy across their supply chain by 2030. In China, Japan, and South Korea, opportunities are available for corporations to buy renewable energy directly from the grid in the form of power purchase agreements, but companies need to make better use of these options. For many tech companies, the majority of electricity consumption comes from the supply chain, so it's critical that tech giants include supply chain emissions in their targets," said Wu. 
"The tech sector brands itself as the industry of the future, but when it comes to climate action, tech giants like Samsung and Xiaomi remain trapped in the past," Wu continued.