Liquid cooling specialist Green Revolution Cooling (GRC) has partnered with Supermicro and Gigabyte to release a range of stripped-down servers that eschew most of the features traditionally offered by large OEMs.
The Minimus range enables customers to configure the hardware before they buy, and specify the exact components they need. According to GRC, this approach helps cut data center hardware costs in half.
The model is similar to the thinking behind the Open Compute Project, but is more suitable for smaller organizations.
White box for the masses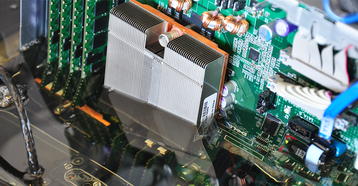 GRC perceives 'premium' charged for branded kit as the great injustice of the data center industry.
"We saw that most OEM servers were not only full of unused features, they also cost significantly more than the cost of their components," explained Christiaan Best, founder and CEO of Green Revolution Cooling.
"There was a time in the industry when everyone believed that 'nobody gets fired for buying blue (IBM)'. But those days are long gone, servers are becoming a commodity and paying a $2,000 premium for a nameplate is no longer acceptable…or necessary."
According to research carried out by the company, the main reason customers buy more expensive branded kit is reliability. But GRC claims that, when it looked at its own custom servers, the annual failure rate stood at less than 1 percent.
The company has collaborated with major server manufacturers Gigabyte and Supermicro to develop a standardized server design based on the ATX motherboard with integrated rack-based liquid cooling and power distribution. It then put all of the pre-tested options into an online framework, to enable customers to mix and match components without any reliability or compatibility worries.
GRC launched the pilot for the Minimus in 2015 with an installation of over two thousand commoditized servers. The pilot has since been expanded to include multiple locations worldwide.
Minimus has plenty of similarities with servers produced by the Open Compute Project – a non-profit established by Facebook to share standardized infrastructure component designs for large data centers. However, Best said that products certified by the OCP are simply not suitable for smaller organizations that don't have the resources of Google or Microsoft.
"OCP is a great platform for the cloud giants to exchange designs that work for them, but for anyone who doesn't have that kind of scale, OCP hardware turns out to be more expensive than off-the-shelf, OEM servers," he added.