Immersion cooling company Green Revolution Cooling has entered a strategic partnership with Heat Transfer Solutions, the largest independent HVAC manufacturers' representative in North America.
The firm also appointed Peter Poulin as its new chief executive officer, with founder and former CEO Christiaan Best transitioning to CTO.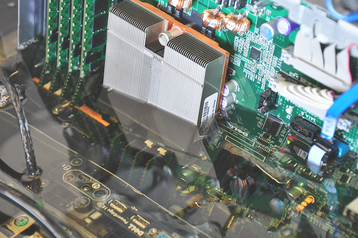 A cool product, a hot market
"We're excited about the opportunity to provide GRC with the longterm financial support required to grow the company to become an enabler for our customers' sustainability goals," HTS Principal Derek Gordon said.
"With our experience designing custom HVAC solutions for data center markets, HTS understands the complications of traditional data center cooling, and sees the value in the proven technology developed by GRC."
Poulin will lead this charge to increase the company's market share in the data center industry. He has spent the last 30 years in IT, half of which at Compaq, the rest as VP of North American sales and marketing for APC, as an adviser to various small companies, and as CEO of Motion Computing.
He said: "With the explosion of data center density and capacity requirements, driven by IoT, Big Data, and HPC trends, our customers are increasingly challenged with reducing their carbon footprint, rapidly expanding capacity, and quickly deploying compute power to the edge of the network where environmental conditions may not be compatible with traditional data center infrastructure requirements.
"Our customers are experiencing material reductions in capital costs, deployment times, and energy costs, attributable to our CarnotJet systems. I am excited to be with a leader that is protecting both our customers computing assets and our planet's environment."
The company claims that its CarnotJet, a rack-based immersion cooling system for servers which uses a mineral oil based dielectric coolant, can help cut data center construction costs by up to 60 percent, and reduce data center cooling energy by up to 95 percent.