American cloud computing specialist Green Cloud Technologies has opened its sixth data center, located in Minneapolis, Minnesota.
The facility will offer wholesale cloud infrastructure to customers in the Upper Midwest, as the company looks to entice managed service providers and value-added resellers.
The exact specifications of the new data center were not disclosed.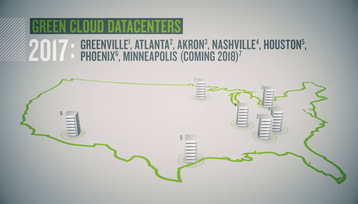 Partners, assemble
Green Cloud is a private and hybrid cloud provider headquartered in Greenville, South Carolina.
The company was established in 2011 with a focus on sustainable operations and wholesale deals – it has gradually emerged as the largest independent channel-only cloud infrastructure provider in the country.
To support its operations, Green Cloud runs data centers in Atlanta, GA, Greenville, SC, Houston, TX, Nashville, TN, and Phoenix, AZ.
Its latest facility is located in Minneapolis – according to Data Center Hawk, the city offers electricity prices that are 20 percent lower than the national average, and local data centres receive an additional sales tax exemption on the energy they consume.
"Investing in world-class data centers is essential to serving our customers, but we are more than just another cloud provider—we become our partner's cloud department," said Keith Coker, Green Cloud's CEO. "Green Cloud takes customer service and support to an unexpected level, so our partners can create and deliver powerful, scalable cloud solutions for their customers."