An immersive liquid cooling system designed by Green Revolution Cooling (GRC) has been used to analyze neutrino physics experiments and investigate the origin of stars.
The company has supplied its CarnotJet system to the Port d'Informació Científica (PIC) research center in Barcelona, Spain, which works with data produced by science projects including the MAGIC telescope, the EUCLID satellite and the Large Hadron Collider.
"The GRC system has beaten all expectations in terms of performance and reliability," said Vanessa Acin Portella, IT team leader at PIC. "We've had zero server or cooling failures in the 18 months that the system has been running."
For science!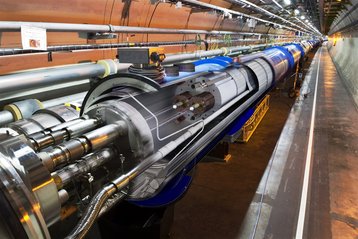 Texas-based GRC was established in 2009 to develop immersive cooling technologies. Its CarnotJet system sinks fully populated server racks in large containers filled with mineral oil-based coolant called ElectroSafe, which does not conduct electricity and absorbs heat 1,200 times more efficiently than air.
This approach means CarnotJet enclosures can be placed in any building with sufficient power capacity – no need for air handlers, chillers, raised floors or aisle containment. According to GRC, immersion cooling can reduce cooling energy costs by up to 50 percent and bring water requirements down to zero.
Port d'Informació Científica was created in 2003 as a joint undertaking of the Spanish and Catalan governments. It specializes in projects which require computing resources for the analysis of massive, distributed datasets, in fields like particle physics, astronomy and cosmology. For these purposes, PIC runs a 5,980-core high-throughput computing cluster supported by a 60-server storage system with 7PB of capacity.
PIC regularly collaborates with CERN (European Organization for Nuclear Research) and the European Space Agency, and is a Tier-1 designated center for the Atlas Experiment.
The research center placed some of its racks in a GRC system in 2015, and has now shared its thoughts about the suitability of immersion cooling technology for High Performance Computing.
"The [GRC] system's ability to support close to 50kW of IT load per rack, without any air conditioning, refrigerant, or water use is what made it attractive to us," Vanessa said. "We had limited space, power, and cooling. GRC's technology made it possible to add capacity in a storage area, while reducing power requirements by 30 percent."
PIC said it plans to explore the use of custom 'white box' hardware to further exploit the cost savings offered by the GRC system.