EdgeData is building a $10 million data center for a military/commercial businesspark on the Grand Forks US Air Force Base in North Dakota, that is dedicated to drones. 
Grand Sky is a 217-acre business and aviation park, dedicated to drones, or unmanned aerial systems (UAS). It is located on the Grand Forks Air Base, which is entirely given over to military drones, including the RG-4 Global Hawk and the Reaper and Predator drones. The new 16,000 sq ft data center will cost $10 million and provide colocation space for Grand Sky tenants by the end of 2017.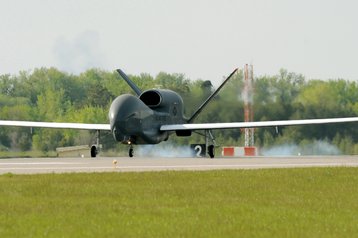 Unmanned flight
North Dakota wants to be a "Silicon Valley for drones," capitalizing on its clear atmosphere and the spin-off from Grand Forks. The state has spent about $34 million nurturing drone business, much of it going to Grand Sky, according to Atlas Obscura's article on the park. While Grand Sky is intended to foster both military and civiilian drone industries, the first tenants, General Atomic and Northrop Grumman are very much from the military side. 
The EdgeData building will allow intregration and sharing amongst Grand Sky tenants, to make better use of data from their projects, said Thomas Swoyer, president of the Grand Sky development company: "For the UAS industry, as well as a number of other industries, the real value of operations lies in the data produced through imagery and other technological applications. This much-needed data center will allow our tenants and companies from other industries to safely store data and more easily convert it into consumable information,"
The site will initially hold up to 72 cabinets of IT equipment in 6,000 sq ft data center space, with space available for future growth. It will have redundant power, multiple fiber optic connections an layered security. It's something of a departure for Grand-Forks based EdgeData, which normally specializes in big data analysis for the conditions of turbine blaces used in wind farms, according to its web site.
"EdgeData will immediately become the North Dakota-based industry leader in big data applications, and is pleased for the opportunity to develop the world's first UAS-focused data center, said Lonnie Bloomquist, CEO of EdgeData.
The data center and its tenants will get tax exemptions on equipment purchases, which the State of North Dakota says are designed to diversify the local economy, supporting tech industries and small businesses. 
"These data centers will bring high-tech jobs with matching salaries and support the growth of other small boutique businesses by providing the necessary IT support to grow these businesses," said State Representative Mark Owens. "Continuing to diversify the state's economy is the only true way to grow jobs, expand paychecks and stimulate the state coffers without tax increases."
EdgeData's release says that these tax breaks were critical in EdgeData's decision to establish a data center in the state.