Google's data center in Pryor Creek, Oklahoma is set to get another expansion, bringing the company's investment in Mayes County to $2 billion by 2018.
At an event held to announce the news, where local officials and Google staff shared the stage, politicians and businessmen highlighted the benefits Google brought to the area.
A Google city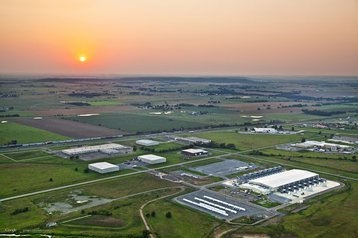 "Five years ago when we were here for their first data center opening, I don't think any of us understood the lightning speed Google was going to grow at," Oklahoma Governor Mary Fallin said.
"Google's $2 billion dollar investment announcement in Oklahoma is yet another example of our state's success in attracting, retaining and growing some of the best companies in the world. Google is a model corporate neighbor, having reinvested in its community more than $1.5 million in STEM grants and tech programs," she continued, The Pryor Times reports.
"We're pleased not only with the investment Google has made in Oklahoma, but also with the commitment the company has made in using Oklahoma's abundant renewable energy, like wind, to power a sizable portion of its operations. This announcement is a win for Mayes County and the entire state of Oklahoma."
After saying that it was "a great day for Pryor," Fallin told assembled Google dignitaries: "We don't take this for granted. We know you could invest in [anywhere] you want and we're grateful you're here. Congratulations, and good luck."
Joe Kava, VP of Google data center operations added: "Since opening our data center operations here in 2011, we have received tremendous support from the local community and state of Oklahoma, which has allowed us to grow and operate at 'Google speed.'
"Oklahoma is an important home for Google, and we look forward to a bright future here."
Kava also highlighted that the Mayes County facility was the first to achieve the search giant's 'zero waste to landfill' commitment, announced earlier this month. Mayes County was also one of Google's data centers to benefit from the Data Center Mural Project.
Pryor Mayor Jimmy Tramel said that the city was blessed to have Google and that "we don't take their presence for granted."
He said: "Since Google opened its data center here in 2011, they've been a powerful partner in both economic investment and community engagement. They continue to make substantial investments in local education programs, technology resources for nonprofits, renewable energy and even free public WiFi.
"Not only has Google been an economic phenomenon to Mayes County, the Googlers have personally invested their time and talents to making Pryor a great place to live. Their presence in Pryor is invaluable."
Google has spent roughly $500,000 on WiFi for the city, and is now in the fourth phase of a roll-out that has brought many local organizations online. In 2010, Pryor had a population of 9,539.
Don Raleigh, Pryor Public School Superintendent, said at the event: "Google is committing a $100,000 grant to the Workforce Development division of the MidAmerica Industrial Park to support the continued growth and development of STEM education in Northeast Oklahoma."
However, a public comment on the Pryor Times site said: "While Google is a very important part to our community, they do not hire from local companies. The people that are hired to work there are not from local companies. We live at Pryor Creek Apts, since moving in the price has steadily increased because these companies will pay more to hold them empty than renting to a local at a decent price. I am glad that Google gives to local public schools. They will not make donations to private or religious organizations in Mayes County area."