Google has partnered with US solar energy company Sol Systems to help secure solar power for its campuses in North and South Carolina.
The two companies this week announced a "unique renewable energy procurement and investment strategy" that they said enables the development of new solar energy projects while supporting the local communities where the projects are built.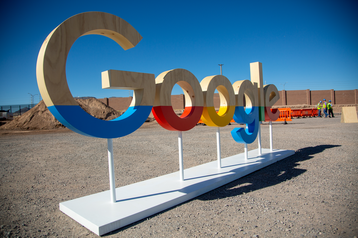 Sol said it and Google have structured an 'integrated clean energy investment and procurement strategy' for solar projects being developed by Pine Gate Renewables in North and South Carolina that will enable 225MW of new solar energy projects and 18MW of battery storage resources.
The new projects will reportedly help the search and cloud giant meet its 24/7 carbon-free energy goal and bring more renewable power to a region with a relatively fossil-fuel heavy energy mix.
"We are honored to be working with Google, a pioneer in renewable energy procurement and community investment," said Sol Systems' CEO Yuri Horwitz. "As they have in the past, they continue to provide leadership and innovation for our industry. We look forward to building on this work in the future."
Alongside this investment, Google and Sol Systems said they will deploy capital into regional community organizations serving under-resourced and minority communities.
"The investment will focus on reducing energy burden by enabling critical home pre-weatherization and safety upgrades to low- and moderate-income (LMI) households," Sol said.
Four regional organizations will receive initial funding from the partnership: Roanoke Electric Cooperative (NC), Santee Electric Cooperative (SC), Aiken Electric Cooperative (SC), and the Sustainability Institute of South Carolina.
"By 2030, we're aiming for every Google data center to operate on clean energy every hour of every day. As we work toward this goal, we are committed to ensuring that the communities where we operate are actively benefiting from the clean energy transition," said Christopher Scott, energy lead at Google. "We're excited to partner with Sol Systems to not only bring new solar projects online to one of the most difficult grids to decarbonize but also work with them to help lower the energy burden in under-resourced communities through the clean energy transition."
Google currently operates a data center campus in Berkeley County, South Carolina in a town called Moncks Corner; and another Lenoir, in North Carolina's Caldwell County. Both were first announced in 2007 and have seen multiple expansions in the intervening years.
The company previously signed a Power Purchase Agreement (PPA) with Duke Energy in 2015 to cover its Lenior facility's power needs.
Pine Gate Renewables is developing a number of solar projects in the US. Its Bowman Solar project in Orangeburg County, South Carolina, went online in 2020 and offers 101MW across 650 acres, while its Centerfield Solar project offers 98MW from Chesterfield. In North Carolina, Pne Gate currently operates the 108MW Trent River Solar and 81MW Sugar Solar projects, as well as the 6.9MW (plus 10MW storage) Grissom Solar project. Which projects Google will be procuring energy from wasn't disclosed.
Founded in 2008 and focused on working with foundations alongside corporate clients, Sol has also signed solar deals with Microsoft totaling 500MW and 17 rooftop solar projects Amazon totaling 55MW.