A Google contractor in Pittsburgh has reached a "tentative" agreement on a first contract with the United Steelworkers trade union.
The agreement comes two years after HCL Technologies employees voted to join the union, citing the lack of benefits and pay expectations when compared to full-time Google staffers.
A ratification vote for the membership is scheduled for July 30, 2021. Should it pass, the contract would take effect immediately.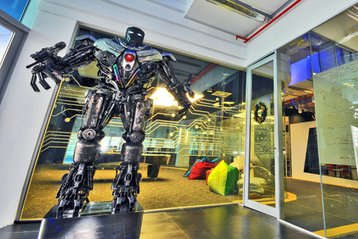 "Nearly two years ago, HCL's employees voted to organize and bargain collectively for a fair contract, and the company fought viciously against it for as long as it could," USW International President Tom Conway said.
"Thanks to the solidarity and determination of these workers and the leadership of our committee, we have reached this important milestone of a first tentative agreement."
Amanda Parks, a member of the USW bargaining committee who works for HCL, claimed that over its three-year term the proposed contract addresses pay parity and includes "meaningful" wage increases. It also provides additional paid time off and changes the contract language to provide job security.
"In spite of the company's best efforts to discourage participating in the union and to avoid negotiating in good faith, we remained united to make our voices heard and demand a fair contract," said Renata Nelson, also a member of the committee.
"We work hard, and we deserve what all workers deserve, an agreement that reflects our important contributions to the company's success."
The National Labor Relations Board upheld some of the USW's allegations, alleging that HCL had outsourced work from Pittsburgh to Krakow, Poland, in retaliation for workers voting for union representation.
Google parent Alphabet has long been accused of outsourcing full-time work to contractors, and then treating those staff differently.
Earlier this year, the newly-formed Alphabet Workers Union took up the cause after Modis contractor Elisabeth Shannon Wait was suspended from her data center job after discussing her salary.
Google and Modis lost the case with the NLRB, and were forced to post strongly worded notices informing all workers at the Moncks Corner data center that Wait's suspension has been fully rescinded, removed from her personnel file, and will not be used against her in any way.
"I'm ecstatic at this settlement, it's a huge win for me and all contract employees at Google and other Alphabet companies," said Wait at the time.
"It's far too easy for contractors like Modis to make us believe that we aren't allowed to publicly discuss our working conditions or join unions, and Alphabet and Google turn a blind eye to this gaslighting. Now, because I had the support of my union to call them out on it, they'll be forced to inform us all of our rights."