Google has launched a storage module designed to let users ship data to the Google Cloud by courier. The product, which echoes similar moves by Amazon, holds up to 480Tbyte, and avoids network uploads which could take years. 
Google Transfer Appliance (GTA) is a 19in rackmount storage appliance, which can be installed in a customer's rack, filled with data, and then shipped to Google for upload to the Google Cloud Platform (GCP). Two sizes are available: a 4U-high 480TB unit or a 2U-high 100TB module. The product, announced on the Google Cloud platform blog and only available in the US, follows Amazon Web Service's similar  50TB/80TB Snowball device launched in 2015, and the truck-sized 100-petabyte Snowmobile launched in 2016.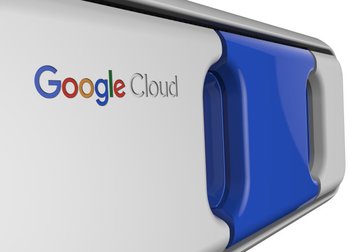 Silver lightning
"In a matter of weeks, you can have a petabyte of your data accessible in Google Cloud Storage, without consuming a single bit of precious outbound network bandwidth," says the GTA product manager Ben Chong in the blog. "Simply put, Transfer Appliance is the fastest way to move large amounts of data into GCP."
Because network bandwidth is limited, large amounts of data can take months or years to transfer over a 100Mbps network link (see table). It is often quicker to transfer large amounts of data on physical media - a practice that has been known as "Sneakernet" since the 1980s. 
If the data is compressed, the 4U unit can hold as much as a petabyte, and the data is encrypted while the device is in transit, says Chong. 
"Working with customers, we've found that the typical enterprise has many petabytes of data, and available network bandwidth between 100 Mbps and 1 Gbps," Chong says. "Depending on the available bandwidth, transferring 10PB of that data would take between three and 34 years — much too long."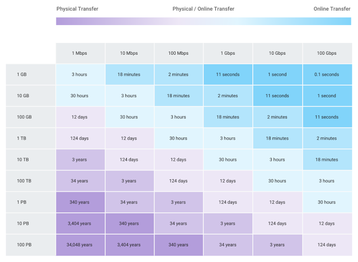 While Amazon's Snowball is a ruggedized standalone "tower" container, GTA is designed to slide into data center racks, says Chong: "Transfer Appliance will only live in your data center for a few days, but we want it to be a good houseguest while it's there."
The 100TB model costs $300, plus about $500 to ship by Fedex; the 480TB model costs $1800, and about $900 to ship. 
The pricing for the product is similar to the Amazon rival at around $3 to $4 per TB, according to a comparison by Data Center Knowledge, which also spotted in the documentation that Google may be working with a partner to deliver the service. 
When using the service, customers must grant permissions to their Google Cloud storage, to [email protected], 
which suggests that archive and backup provider Iron Mountain may be involved in delivering the service.
Iron Mountain is a Google Cloud partner which is one of the partners in Google's Nearline Storage initiative to offer fast access to "cold" storage held by partner facilities - so data can be held for $0.01 per Gbyte per month and restored within three seconds. To facilitate this, Iron Mountain has already installed a fast connection to the Google Cloud to upload material from its own customers' tapes, according to a report in The Register.