Western Internet giants Google and Facebook are teaming up with broadband communications service provider Pacific Light Data Communication (PLDC) and TE SubCom to build a 12,800 km transpacific submarine cable system linking Hong Kong to Los Angeles.
The Pacific Light Cable Network (PLCN) will be the first system to stretch from the Chinese autonomous region to LA, and will have a capacity of 120 Tbps when it launches in the summer of 2018.
Pacific Shift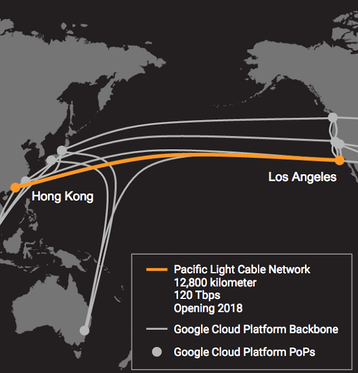 "PLCN will be among the lowest-latency fiber optic routes between Hong Kong and the US and the first to connect directly using ultra-high-capacity transmission," Wei Junkang, PLDC chairman, said.
"It is certainly gratifying that global technology companies like Google and Facebook have become co-investors in PLCN. It is a strong signal that PLCN will be trusted to address the capacity needs for internet and international communications services throughout the Pacific Rim."
He continued: "We envision this deployment as the initial step in PLDC's construction of a global network."
Aaron Stucki, president of TE SubCom, added: "PLCN will showcase the ultra-high-capacity designs and industry-leading wet plant technologies that have enabled TE SubCom to become the manufacturing partner of choice for the world's most advanced undersea networks."
Brian Quigley, director of Google Networking Infrastructure, said in a blog post: "This is the sixth submarine cable in which Google has an ownership stake — joining the ranks of the Unity, SJC, FASTER, MONET and Tannat projects. We anticipate that PLCN will be operational in 2018.
"From the get-go, PLCN is designed to accommodate evolving infrastructure technology, allowing us to independently choose network equipment and refresh optical technology as it advances. Most importantly, PLCN will bring lower latency, more security and greater bandwidth to Google users in the APAC region."
We detailed the rise of submarine cable investment from both Western cloud providers and Tier-I carriers in Asia in our latest feature on the future of the industry, which is currently in the middle of a cable laying boom.
Google, Facebook, Microsoft and Amazon have pumped money into large submarine cable projects as their services have grown in popularity worldwide, but questions remain over how long the current cable laying spree will last.