Google Cloud this week took the wraps off an on-premises version of its popular Google Kubernetes Engine (GKE), looking to attract enterprises that want to modernize their systems at their own pace.
GKE is the core service for managing containers in Google Cloud, and Google says the upcoming version will let enterprises tap into the same capabilities and experience in their own data centers.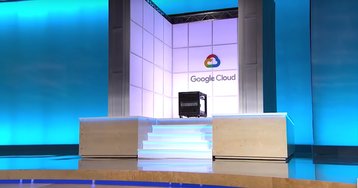 GKE On-Prem
GKE On-Prem will work exactly like the cloud version, managed from the Google Cloud Platform (GCP) console, allowing enterprises to orchestrate both within the same environment.
It will also include support for GCP Marketplace, which recently started accepting Kubernetes-based applications.
Google says GKE On-Prem will give enterprises the option of keeping their applications in close proximity while engineering them to be "cloud-ready." These can then be migrated to Google Cloud with minimal effort, and managed with the same operational skills.
"Whether you are modernizing code or writing new microservices. You have one way to deploy, one way to secure, one way to audit. Either way, monitoring and managing the service is the same way as [on] GKE," said Urs Hölzle, senior VP for technical infrastructure at Google.
Hybrid cloud ahead
"We are ending the false dichotomy between on-premises and the cloud," Hölzle said, noting that a consistent hybrid platform is a natural choice for businesses.
Google's hybrid cloud strategy is not new, and Microsoft is arguably ahead here with Azure Stack, which was designed to let enterprises roll out edge or hybrid cloud deployments by extending Azure's services and capabilities on-premises. Indeed, last month at CeBIT, Chinese electronics giant Huawei released a hybrid cloud solution designed and validated for Azure Stack.
Google's embrace of hybrid cloud leaves market leader Amazon Web Services (AWS) as the only one of the top three public cloud providers to have stuck to a "cloud-only" strategy. Interestingly, when Google demonstrated GKE On-Prem on stage, it was running on VMware vSphere cluster, a not-so-subtle gesture that it now has its eyes on the enterprise data center.
GKE On-Prem is expected to be available for testing with early customers in fall.