Back in 2015, Google revealed plans to convert a coal power station in Jackson County, Alabama into a data center, with construction on the $600m project set to begin in early 2016.
Now, as the year comes to a close, the company has gone quiet.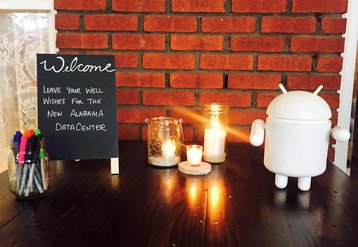 Silent running
After the Widows Creek coal fired power station was closed, losing 90 jobs in the last phase alone, locals and politicians were eager to see the land used for something that would bring investment back to the hard-hit region.
"Since the 1960s, Widows Creek has generated power for the region—now the site will be used to power Internet services and bring information to people around the world," Patrick Gammons, Google's senior manager of data center energy and location strategy said in June 2015. 
"We expect to begin construction early next year and look forward to bringing a Google data center to Alabama."
However, construction has yet to begin. Local leaders including Bridgeport Mayor David "Bubba" Hughes and Greater Jackson County Chamber of Commerce president Rick Roden have not heard from the company on when it will begin, or if there is a delay.
"They just don't tell us a lot," Roden told Tech Alabama. He said that some preliminary work moving a significant amount of dirt had taken place, but the last he heard from the company was that it is still working on electrical infrastructure at this time.
The indications are that Google is still planning to develop the site, but is just behind schedule. Hughes said that believes it is more likely that construction will begin in 2017.
For a loose comparison, Google announced plans for a $500m data center in Clarksville, Tennessee in December 2015. That site seems to have progressed slightly faster, with the Clarksville-Montgomery County Industrial Development Board posting photos in August of completed signage as Google ramps up work over the next two to four years.
Google has delayed projects in the past - in 2007, it announced plans for a facility in Pryor, Oklahoma, but the next year it said it was holding off because it was busy bringing other operations online. Local news reports at the time also said the global financial crisis was to blame.
The first phase of the data center eventually came online in 2011. Earlier this year it said it would expand the facility further.
Involved in that expansion, and other US data center upgrades and roll-outs is Google's hardware operations manager Brenda Standridge. Standridge is also the Google data center manager for Jackson County, according to local tweets, so it is possible that the tech giant is again simply busy working on other projects.
Indeed Google, which last year invested $9.9 billion in its cloud infrastructure, has plans to launch regions (each consisting of multiple data centers) in various regions across the world next year as it tries to catch up on Amazon Web Services healthy lead - both in market share and regional distribution.