Monet, the 10,556km (6,560 mile) submarine cable linking Boca Raton in the US to Fortaleza in Brazil, is now ready for service.
The 64Tbps cable - funded by Google, TE SubCom, Algar Telecom (Brazil), Angola Cables (Angola) and Antel (Uruguay) - was originally set to launch last year.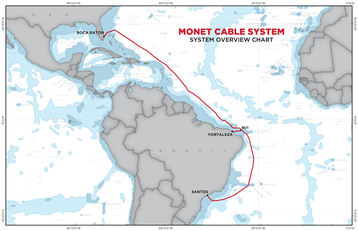 Google's Monet
"The successful implementation of Monet is the result of excellent teamwork between TE SubCom and the purchasers to mitigate project risks," Debra Brask, VP of Project Management at TE SubCom, said.
"TE SubCom is proud to have delivered on time a flexible, highly reliable system to this distinguished group of customers."
Antonio Nunes, chairperson of the Monet Executive Committee, added: "We are proud to have completed this project with SubCom in the most efficient manner possible. The open cable approach enabled each Monet party to meet its respective network objectives while still benefitting from the strengths of a joint build partnering model.
"Each of the parties, working with TE SubCom, was able to create a network that should meet our technology and cost needs well into the future."
The cable is one of the first to arrive directly into a data center, rather than a specialist landing station. In Florida, it travels directly into Equinix's MI3 International Business Exchange facility.
"The Monet project is an excellent example of our pioneering model for submarine cable operators to bypass the traditional cable landing station allowing customers to now terminate their submarine cable directly into the data center,"  Steve Steinhilber, Equinix VP of Global Business Development, told DCD.
"This translates to direct, low-latency access to the numerous industry ecosystems for the customer."