Google has announced new regions including India, London and Singapore, and rebranded its cloud business as Google Cloud.
The announcements took place at Google Horizon, a business cloud event in San Francisco where Google's cloud head Diane Greene promised continued heavy investment in cloud products which she claimed are already better than those of the competition - even though Google Cloud is still in fourth place in the cloud race, trailing behind Amazon Web Services (AWS), Microsoft Azure and IBM.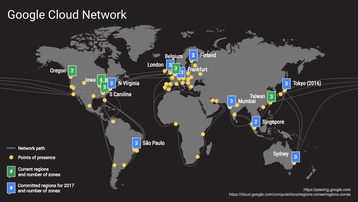 India, London, Sao Paulo and more…
The announcements flesh out a promise of twelve new regions in March, building on what was then only four regions worldwide (Asia, Western Europe, and two US regions. That announcement added a third US region, and promised one in Japan, with another ten to follow. 
In this week's announcement, we get eight more names: data centers in Mumbai, Singapore, Sydney, Sao Paulo, London, Frankfurt, Finland and North Virginia will all be upgraded to become regions.  
The rebrand, described by VentureBeat as "significant", puts Google Cloud Platform, Google Apps for Work, and enterprise versions of Android and Chrome OS into the new Google Cloud division, along with Google's containers, Kubernetes and AI services. 
Meanwhile, cloud services such as Google Mail, Drive, Docs, Calendar and the rest have all been rebranded as G Suite, and become part of the new Google Cloud division. 
The company is serious about playing catch-up: Urs Hölzle, vice president of infrastructure said the company's $9.9 billion investment in cloud infrastructure last year was as much as Amazon and Microsoft put together. 
And Diane Greene made a claim that, compared to the competition, its products were "just plain better."