Google today announced details of the expansion of its metro Lithia Springs, Atlanta, GA,data center by 500,000 square feet to provide a new mega data center over 1.3m square feet. According to the Atlanta Business Chronicle, a public filing by the company has confirmed the details of new building work which will include a four-story data center with additional new structures. 
The project codenamed "Woodside" will be completed at the end of 2016, according to a local Development of Regional Impact filing made in Georgia. The project, codenamed 'Woodside' is planned to be finished by the end of 2016, according to the filing documents.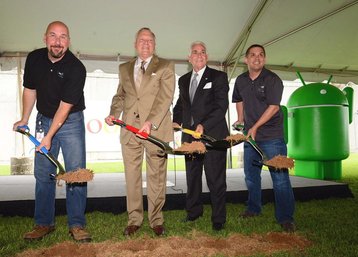 Breaking ground on another Google expansion
Jason Wellman, Google data center operations manager, said: "Data centers are the engines of the Internet, and as the Internet grows, our data centers are growing too. Douglas County and the state of Georgia have been excellent partners, enabling us to grow our presence in the state. This expansion will allow us to continue to provide fast and reliable service to millions of people around the clock."
Douglas County officials have already agreed and passed a package of tax breaks for the project to lure Google into the additional build.
The new facility will create twenty five new jobs locally and will run in tandem with Google's plans to launch a high-speed broadband service in nine metro Atlanta cities.
Google has been continuously growing its stable of data centers, which form the backbone of its services. The company now has 13 data centers world wide.